Free shipping on most orders over $79. Pickup and in-store shopping available Monday – Saturday, 10am to 6pm in downtown Los Angeles.
40% off Watermedia Cradled Birch Panels
Solid wood for the cradle (frame around the back) and 1/8" top-quality birch plywood for the face (surface to be painted), with a water-media treatment on the surface that is absorbent, durable, and lightly textured (can be sanded to be more like hot press paper). No other prep work is required.
Shop Sizes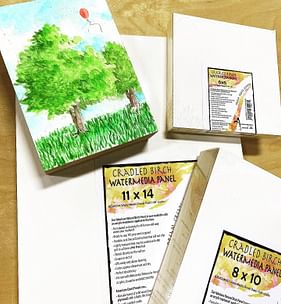 NEW Pasco Pen Cases

Pasco (hardened fiber board) is made of recycled paper and fresh pulp to create the luxurious feeling of Pasco Pen Cases. Similar to plastic in terms of its lightness and strength, the color of Pasco Pen Cases will change with use, creating a truly unique item. Water-resistant surface.

Shop Colors

Limited Edition Pigment Sticks Set

Available for a limited time, this set of Pigment Sticks (oil paint you can draw with) includes Prussian Blue, Green Gold Pale, and Olive Yellow and three limited edition colors: Verdigris, Quinacridone Magenta Light, and Cadmium Coral.

Shop Now

25% off Reclaimed Earth Colors Set

Artist John Sabraw, Engineer Guy Riefler, Environmentalist Michelle Shiverly, and a team of students at Ohio University developed a process to extract painting pigments from "toxic sludge" from rivers in Ohio. They teamed up with Gamblin to produce this set of three colors.

Shop Now