Free shipping on most orders over $79. Pickup and in-store shopping available Monday – Saturday, 10am to 6pm in downtown Los Angeles.
30% off Koi Watercolors Pocket Field Sketch Boxes
On-site watercolor painting is simple with a studio right at the artists' fingertips! These sets feature Koi watercolors, specially formulated to blend easily to create an endless color range.
Shop Sizes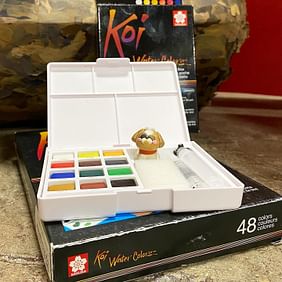 Savage Seamless Background Paper

Savage Widetone Seamless Background Paper has been the professional photographer's top choice for backdrops for over 60 years bc yes it is all that, a high-quality, non-reflecting, acid-free 110lb paper background with an exquisite, fine-tooth feel. We stock every color in the 109" (9 ft.) size and a selection of colors in smaller sizes.

Shop Sizes & Colors

NEW Pasco Pen Cases

Pasco (hardened fiber board) is made of recycled paper and fresh pulp to create the luxurious feeling of Pasco Pen Cases. Similar to plastic in terms of its lightness and strength, the color of Pasco Pen Cases will change with use, creating a truly unique item. Water-resistant surface.

Shop Colors

40% off Princeton Catalyst Silicone Wedges

Catalyst Silicone Wedges are made of engineered silicone and are ergonomically designed to fit in the hand allowing a direct interaction with art work. Ideal for oils, acrylics, water-miscible oils, and because they are 🔥heat-resistant, they excel at encaustics as well.

Shop Shapes