Free shipping on most orders over $79. Pickup and in-store shopping available Monday – Saturday, 10am to 6pm in downtown Los Angeles.
20% off COPIC Sketch Markers
Double-ended, refillable, fast-drying, permanent, and non-toxic. Sketch Markers have that oval barrel, a super brush nib on one end—perfect for doing professional illustration, fashion design, Manga, and adding detail to your images. The super brush nib acts like a paintbrush both in feel and color application. Use the medium broad nib on the opposite end of the marker for more control.
Shop Colors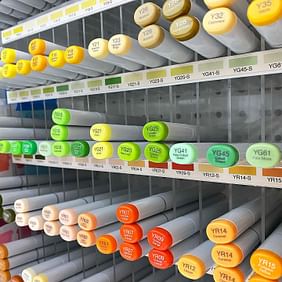 25% off Reclaimed Earth Colors Set

Artist John Sabraw, Engineer Guy Riefler, Environmentalist Michelle Shiverly, and a team of students at Ohio University developed a process to extract painting pigments from "toxic sludge" from rivers in Ohio. They teamed up with Gamblin to produce this set of three colors.

Shop Now

40% off XL Recycled Drawing Pads

Made with 30% post-consumer waste using environmentally friendly, sustainable processes. Heavy-weight, micro-perforated 70lb. sheets w/superior blending and erasing capabilities.

Shop Sizes

10% off Amsterdam Acrylic Marker Sets

Amsterdam Acrylic Markers are odorless, quick drying, lightfast, and these sets can get you started with the 4mm size in ranges of colors including Reflex (Neon) and Metallic colors.

Shop Sets