Free shipping on most orders over $79. Pickup and in-store shopping available Monday – Saturday, 10am to 6pm in downtown Los Angeles.
40% off Princeton Aspen Synthetic Bristle Brushes
Aspen Synthetic Bristle Brushes are🥰 for control and placement of color, paint releases and glides evenly off the synthetic hairs. ICYMI ✨NEW✨ "Short" shapes! Can be used with all acrylic and/or oil paints including water-soluble oils. The non-glare ferrule makes Aspen perfect for outdoor painting.
Shop Shapes & Sizes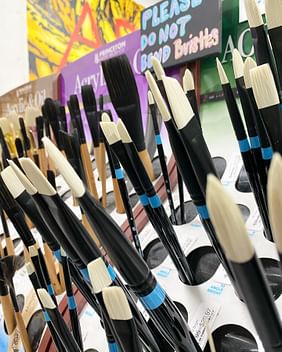 40% off Reclaimed Earth Colors Set

Artist John Sabraw, Engineer Guy Riefler, Environmentalist Michelle Shiverly, and a team of students at Ohio University developed a process to extract painting pigments from "toxic sludge" from rivers in Ohio. They teamed up with Gamblin to produce this set of three colors.

Shop Now

10% off Pasteboard Sketch Books

These sketch books feature pasteboard (also known as binder board) covers with true linen spines. The heavy-weight, 100gsm (120gsm in some sizes) paper is excellent for all dry media and is suitable for water-based markers and light washes.

Shop Sizes

10% off Soho Series Sketch Pads

Soho Series Sketch Pads from Japanese paper company Maruman are suitable for pen and colored pencil. Each tape-bound pad contains 100 sheets of 96.4gsm white acid-free paper.

Shop Sizes