Free shipping on most orders over $79. Pickup and in-store shopping available Monday – Saturday, 10am to 6pm in downtown Los Angeles.
Lauren Watercolor Brushes
These brushes deliver amazeballs quality in a value brush—lacquered handle, double crimped ferrule, durable and easy to care for Golden Taklon brush heads—perfect for students and budget-savvy artists.
Shop Shapes & Sizes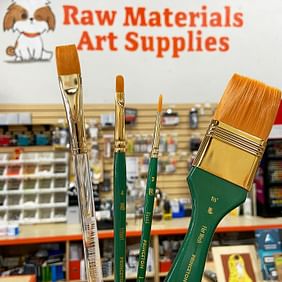 New: Mural & Theme Paints

Golden Paintworks Mural & Theme Paints are formulated using advanced, exterior pigments and resin technologies to create an array of clean, intense, lightfast colors for painting and enhancing a wide variety of projects from murals to themed façades, entertainment venues, and color branded commercial buildings.

Shop Sizes & Colors

NEW Neutral Gray Oil Colors Set

The brand-new Williamsburg Neutral Gray Oil Colors Set (includes N2, N4, N6, and N8 colors) allows artists to create full value grisaille paintings with its range from black to white. Color can then be applied to the grisaille, either full strength or as desaturated color after mixing with these grays, giving artists more control of color value throughout the painting.

Buy Now

Fabriano EcoQua Notebooks

🌈🌺Is it a Spring Thing? Fabriano EcoQua Notebooks 💥ON SALE at 25% OFF💥 EcoQua Notebooks have wonderfully colorful covers and are ideal for writing, sketching, and/or drawing in pen, pencil, and marker. Made in 🇮🇹 Italy w/environmentally friendly FSC certified 57 lb. (85gsm) paper that is chlorine-free, acid-free, and completely recyclable. Available Staple- and/or Spiral-Bound with Lined, Blank, Standard Grid, and Dot Grid sheets. So is it a Spring Thing, or do you always color-code your projects to stay better organized? 🤔 🛒

Shop Colors & Sizes