Free shipping on most orders over $79. Pickup and in-store shopping available Monday – Saturday, 10am to 6pm in downtown Los Angeles.
25% off Fundamentals Acrylic Colors
Express yourself with artists' quality paint at an affordable price. Lightfast pigments in 🌈 58 brilliant colors. Available in 75ml and 200ml tubes, pint and quart jars, and gallon containers.
Shop Sizes & Colors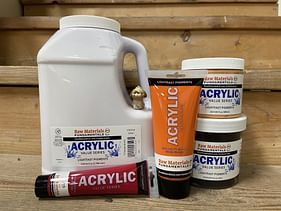 10% off Soho Series Sketch Pads

Soho Series Sketch Pads from Japanese paper company Maruman are suitable for pen and colored pencil. Each tape-bound pad contains 100 sheets of 96.4gsm white acid-free paper.

Shop Sizes

25% off Fabriano EcoQua Notebooks

Fabriano EcoQua Notebooks 💥ON SALE at 25% OFF💥 EcoQua Notebooks have wonderfully colorful covers and are ideal for writing, sketching, and/or drawing in pen, pencil, and marker. Made in 🇮🇹 Italy w/environmentally friendly FSC certified 57 lb. (85gsm) paper that is chlorine-free, acid-free, and completely recyclable. Available Staple- and/or Spiral-Bound with Lined, Blank, Standard Grid, and Dot Grid sheets. So is it a Spring Thing, or do you always color-code your projects to stay better organized? 🤔 🛒

Shop Colors & Sizes

30% off Flashe Matte Artist's Color

Flashe Matte Artist's Colors are an extra fine, vinyl-based professional grade of matte permanent colors with optical characteristics similar to gouache, old tempera paints, and primitive painting grounds — matte, velvety, opaque. Highly pigmented, they can be diluted with water to create a range of possible techniques - from dense, highly opaque application to transparent watercolor effects.

Shop Sizes & Colors