Airbrushes & Sets
This introductory airbrush set includes everything in the box that you need to get started with airbrushing, including:
---
The multi-purpose, high-paint-flow, high-detail airbrushes of the Eclipse Series cover a wide range of uses. Commonly used to spray premixed or heavier paints, they are well-suited for uses demanding precise control of spray when applying moderate-to-large amounts of paint to a variety of surfaces and to various-sized areas. The Eclipse Series has established a new benchmark for excellence in an all-purpose airbrush.
---
Offering total control for fine detail spraying, Iwata's High Performance Plus Series airbrushes are designed around the legendary Iwata HP Series which established the Iwata name in the creative community over 50 years ago.
---
This entry-level airbrushing kit contains everything you need to get started, including a link to online tutorials that will take you through the basics of airbrushing. The compressor and airbrush are fully compatible with other Iwata components.
---
Think you want to give airbrushing a try? Not sure you want to spend much to get started? The Neo is perfect for you…. and you'll have a great first experience! Iwata-Medea designed the Neo for the first time user. The Neo is very affordable, sprays great with an inexpensive compressor and is backed by the leading company in the airbrush market. New to airbrushing? Get the Neo.
---
Made for users at all levels, this top-of-the-line Revolution Series brush is a great value. With breakthrough technology and performance, this airbrush outperforms all others in its price range. Its features include: an internal mix airbrush; ergonomic handle design; fine detail to 1½" spray pattern; larger nozzle and needle combination (0.5mm) that makes for easier spraying of thicker or heavier paints; redesigned trigger mechanism and larger needle-chucking nut for easy assembly; and replaceable internal PTFE needle packing for use with solvent-based paints.
---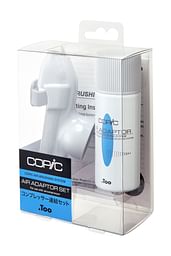 Your favorite COPIC and COPIC Sketch marker can easily become an airbrush with this system. Simply insert the standard broad or medium broad end of the marker into the Air Grip. The Air Grip can be hooked up to an air compressor or used with a special air can. Changing colors is as easy as switching markers.
---
This beginner airbrush set includes everything in the box that you need to get started with airbrushing, including:
---
Experienced airbrushers who demand absolute precision and unmatched extreme detail spray choose the Iwata Custom Micron Series airbrushes. Specialized machining processes along with meticulous custom-matched head systems create a one-of-a-kind airbrush experience with superb handling and superior atomization. Replacement Head Systems are tested and tuned to the same standards to ensure that Custom Micron will maintain its precision over time.
---
Iwata G-Series G6 Bottle Set Side Feed Airbrush-Gun - Spray Chart When airbrush projects call for larger coverage, look no further than the Iwata G-Series airbrush-guns. They spray with the fine atomization and air pressure of an airbrush, while covering larger spray areas.
---
Iwata's Hi-Line Series airbrushes include a Micro Air Control (MAC) valve, which enables incremental control of air flow and easy adjustment for a fine to medium spray. Using the MAC valve, you can create stipple effects by turning the valve to restrict air flow.
---
This popular single action airbrush incorporates separate air and fluid controls which enables the user to get a set line, shade, or stipple effect. The set comes with a 1/4 oz. color cup, 1 oz. bottle assembly, a 1 oz. storage assembly, hanger, wrench, 6 ft. hose and a lessons booklet. It contains all the needed accessories to easily convert between fine and medium line sizes ranging from 1/32" to 1" using India inks, stains, oils and watercolors up to 1-1/4" using the previous media plus thinned glazes, lacquers, enamels and varnishes.
---
Includes a VL#3 Double-Action Airbrush, size 1 & 5 spray heads, a head protecting cap, a metal color cup, two bottle assemblies, one bottle and cover assembly, a hanger, a wrench, one 6' Air Hose, the "22 Airbrush Lessons" booklet and assorted other parts.
---