Frisket & Stencil Films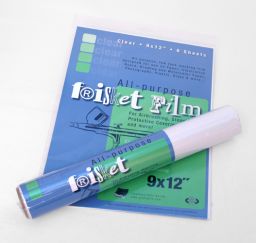 A .002" film in clear or matte with an ultra-removable adhesive on a polypropylene base. The adhesive sticks when needed and removes without leaving a residue. Excellent for use on hot press (smooth) surfaces including illustration board, photographs, watercolor, and drawing paper and with most airbrush techniques.
---
Create your own stencils and templates easily on this heavy-weight transparent blue film by simply drawing or tracing your design and then cutting out with scissors or a utility knife. It can also be used with punches, decorative scissors and die-cut machines. The easy to cut but durable non-tear mylar stands up to repeated use. There are four 9" x 12" sheets per pack.
---
Well-suited for professional draftspeople, graphic artists, architects and those whose work requires steady and controlled application. It' s low tack, compatible with almost all surfaces and allows easy peeling without leaving residue behind. Frisk film is backed by a translucent paper that provides additional handling ease. Perfect for light projection, pre-cut stenciling and on-the-artwork cutting.
---
Artool® FrisketFilm is a low tack, soft-peel, self-adhesive masking film which can be effectively used with most mediums. Available in matte and gloss finish, it has a translucent backing sheet for easy handling, cuts cleanly and can be removed easily from nearly every working surface such as photographs, illustration board, Claybord, watercolor and drawing paper, canvas, glass, plastic, metal and glazed ceramic surfaces. Artool® FrisketFilm can be used in a variety of masking applications – from creating your own stencils to protecting your work from excessive handling.
---
Foto/Frisket is a transparent self-adhering, masking and stenciling material that is designed to be cut directly on the work. It is ideal for creating hard-edge techniques with an airbrush or accurate color applications such as photo retouching. Its low tack sticks to almost any non-greasy surface and removes easily without any damage or residue. Badger recommends that you test the surface prior to use and never leave Foto/Frisket on for more than 8 hours. In gloss or matte surface the film will only accept pencil work. Sheets measure 8-1/2" x 11".
---