Our downtown store is temporarily closed due to the "Safer at Home" emergency order in Los Angeles. We are able to drop-ship a limited selection of products from warehouses in other states. Some of these products must be ordered in case quantities. We are not offering curbside pickup at this time. There is a $50 order minimum.
All-Purpose Frisket Film
A .002" film in clear or matte with an ultra-removable adhesive on a polypropylene base. The adhesive sticks when needed and removes without leaving a residue. Excellent for use on hot press (smooth) surfaces including illustration board, photographs, watercolor, and drawing paper and with most airbrush techniques.
Not recommended for use with automotive paints and applications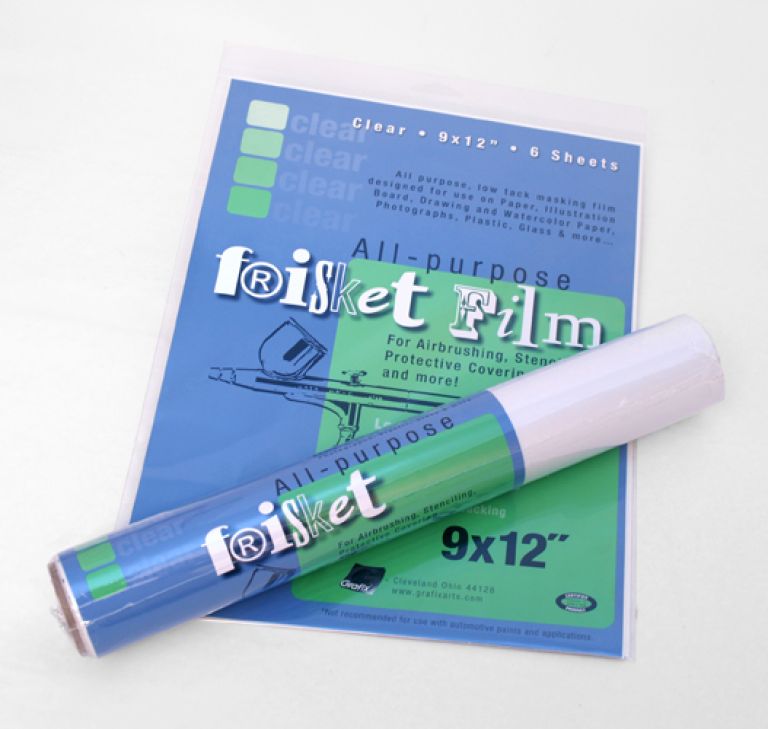 Availability alert! Items that say "Maybe" may not be in stock, this only indicates that the item is usually stocked in the warehouse. Your payment will be refunded for any items we are unable to have shipped.
9" × 12" (12 sheets)
| Item No. | Description | List | Sale | Availability | In Stock | |
| --- | --- | --- | --- | --- | --- | --- |
| GXKLC912-12N | Clear | $15.28 | $13.75 | Drop-ship only | Maybe | |
| GXKLM912-12N | Matte | $15.28 | $13.75 | Drop-ship only | Maybe | |
12" × 4 yd. Roll
| Item No. | Description | List | Sale | Availability | In Stock | |
| --- | --- | --- | --- | --- | --- | --- |
| GXRLC124N | Clear | $16.60 | $14.94 | Drop-ship only | Maybe | |
| GXRLM124N | Matte | $16.60 | $14.94 | Drop-ship only | Maybe | |
24" × 4 yd. Roll
| Item No. | Description | List | Sale | Availability | In Stock | |
| --- | --- | --- | --- | --- | --- | --- |
| GXRLC244N | Clear | $30.71 | $27.64 | Drop-ship only | Maybe | |
| GXRLM244N | Matte | $30.71 | $27.64 | Drop-ship only | Maybe | |