Calligraphy & Lettering Books
The art of eye appeal gets everything going. Top sign designers have long recognized that technical skills and tricks may be worthless without first developing a strong layout.
---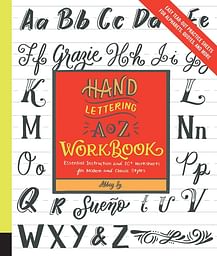 Created by Abbey Sy, lettering expert and author of Hand Lettering A to Z, this must-have companion volume is a super-sized collection of drills, exemplars, and practice sheets for a variety of modern lettering styles, flourishes and other decorative elements, and motivational and inspirational quotes.
---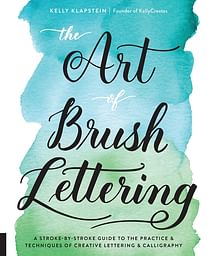 In The Art of Brush Lettering, Kelly Klapstein takes a simple, serene approach of the art of creating letterforms with easy-to-use, colorful brush pens. So whether you're just learning to letter or you're an experienced calligrapher, who wants to explore writing with brush pens, The Art of Brush Lettering will inspire and guide you on your creative journey.
---
Arthur Newhall has a unique and varied background in the lettering an graphic design field, and this book collects 65 of the alphabets he developed over his long career.
---
Every creative sign maker has the potential to design – and sell – effective logos for the businesses they make signs for every day. Learn Dan Antonelli's straight-forward approach to creating and marketing effective, appealing logos-and see over 120 full-color examples. Designing logos is more profitable than you think.
---
Twenty-four page book covering the basic alphabets, drafting alphabet and manuscript. By Ross F. George.
---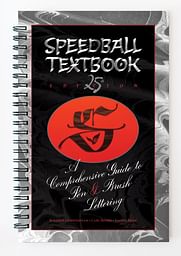 First published in 1915 by Ross F. George, The Speedball Textbook is the superlative resource for artists and letterers of all ages and skill levels.
---
The Complete Book of Calligraphy & Lettering provides expert instruction on the intricacies of traditional lettering techniques, as well as an introduction to contemporary hand-lettering formats. From selecting the appropriate tools, such as pens, nibs, brushes, inks, and papers, to learning optimal hand positioning and understanding the intricacies of lettering angles, heights, spacing, and strokes, The Complete Book of Calligraphy & Lettering will help lettering enthusiasts swiftly master their craft. Step-by-step lessons, practice templates, and a range of stunning alphabets demonstrate the breadth of artistic achievement that comes with practice and dedication. Four professional artists guide you through traditional calligraphy techniques, as well as an introduction to contemporary hand-lettering art forms, such as brush lettering and mixed media, for a well-rounded approach to the craft. Additionally, a short section on Chinese brush lettering and several mixed media lettering projects inspire creativity and demonstrate how calligraphy and lettering can be used in wider artistic contexts and projects. Including practice templates for several featured alphabets in addition to mixed media "bonus" projects designed to inspire artistic creativity, The Complete Book of Calligraphy & Lettering will inspire lettering enthusiasts of all skill levels to strengthen their existing skills and delve into new, lesser-known variations of the trend.
---
This 24-page instruction booklet covers the tools, materials and applications of the Sumi-e art of brush painting.
---
This paperback book on Sumi-E, an ancient Japanese technique, is great for teaching art to the beginning student. By learning and mastering the four basic brushstrokes of this technique, students will be able to create successful pictures and open themselves up to new levels of creativity.
---