Coloring Books
Pepin Coloring Books offer creative, thematic designs for the artist. Each book contains lightly printed designs on high quality drawing paper. Perfect for colored pencils, watercolor pencils, artists' markers, pen & ink, pastels and mixed media. Each book has sixteen unique designs on 180gsm acid-free drawing paper that can easily be removed for display. When used with high quality lightfast color products, the artwork can last for years. Do not expose to direct sunlight.
---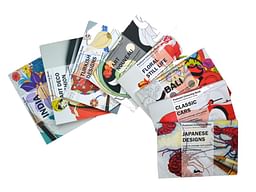 Each Postcard Coloring Book title contains 20 postcards of superior 250gsm acid-free and archival quality drawing paper, printed with 20 exceptional designs in very light lines. The printing is done in such a way that, depending on the techniques used, the original outline will be hardly visible after coloring. The archival quality paper is made to strict specifications by one of the best paper mills in Europe and is suitable for a wide range of coloring applications, including pencil, colored pencil, watercolor pencils, crayon, pastel, felt marker, gouache and ink. When used with high quality lightfast color products, the artwork can last for years. Do not expose to direct sunlight.
---
This stunning new coloring book by Johanna Basford takes readers on an inky quest through an enchanted forest to discover what lies in the castle at its heart. As well as drawings to complete, color and embellish, there are hidden objects to be found along the way including wild flowers, animals and birds, maps, lanterns, keys and treasure chests. Beginning at the entrance to the forest, the journey progresses through woodland, rocky caves and tree-lined mazes, over streams and a waterfall, across the trees tops, to finally reach the castle.
---
Immerse yourself in the world of Game of Thrones through this beautifully and intricately illustrated coloring book for adults. Complete portraits of your favorite characters and experience the dramatic landscapes and cities of the Seven Kingdoms and beyond. This is a coloring book of truly epic proportions.
---
Tumble down the rabbit hole and find yourself in an inky black-and-white wonderland. This interactive activity book takes you on a ramble through a secret garden created in beautifully detailed pen-and-ink illustrations – all waiting to be brought to life through coloring, but each also sheltering all kinds of tiny creatures just waiting to be found. There are also bits of the garden that still need to be completed by you! Appealing to all ages, the intricately-realized world of the Secret Garden is both beautiful and inspirational.
---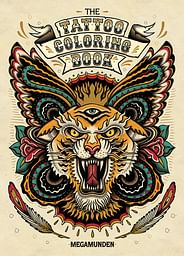 Packed with stunning illustrations, this unique coloring book celebrates the art of the tattoo. The tattoo designs were specially drawn for the purpose of this book and range from traditional motifs of hearts, sailors, girls, skulls and roses to more elaborate compositions with a contemporary edge. A perfect gift book that will appeal to anyone who loves tattoo imagery or for someone who is looking for inspiration for their next piece of body art.
---
This coloring book features 30 creative art activities inspired by the Mexican holiday, Dia de los Muertos. Fun, exotic and full of psychedelic details, these intricate drawings are sure to spark your imagination and awaken your inner artist. Express yourself with fascinating images based on Day of the Dead sugar skulls. You'll love coloring this mystical folk art, from dancing skeletons to traditional nichos and papel picado. Each inspiring design is so detailed that you could spend hours on a single page. The book also provides valuable advice on coloring and patterning techniques, plus some colored examples to get you started. This inspiring coloring book for grownups is perfect for decorating with markers, colored pencils, gel pens or watercolors. Printed on high-quality, extra-thick paper designed to eliminate bleed-through. Each page is pre-perforated for easy removal and display.
---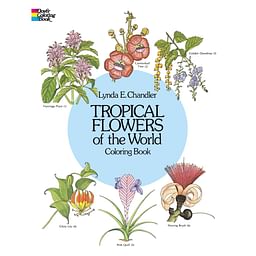 Dover coloring books are unique on the market, with detailed artwork printed on quality, heavy-weight paper that accepts most coloring media well. Many of the books take an educational approach and adults have been known to enjoy them as much as children.
---
Many people use the art of coloring as a means of relaxing from the demands of daily life. These coloring books are specifically designed for the experienced colorist. This exciting series presents highly detailed illustrations based on popular and sophisticated themes, from mandalas and mosaics to flowers and animals. The pages of these coloring books are perforated for easy removal and display.
---
Small, 4-3/16" x 5-1/4" economical, fun coloring books for kids.
---
These uniquely designed coloring books are printed on translucent pages that glow when colored and held up to a light source. Illustrations are printed on both sides of the special paper for the most authentic stained glass appearance. Finished sheets can be used for lampshades, mobiles and other arts and crafts projects.
---
With Lost Ocean, Johanna Basford invites color-inners of all ages to discover an enchanting underwater world hidden in the depths of the sea. Through intricate pen and ink illustrations to complete, color, and embellish, readers will meet shoals of exotic fish, curious octopi and delicately penned seahorses. Visit coral reefs and barnacle-studded shipwrecks, discover intricate shells and pirate treasure. Secret Garden and Enchanted Forest fans and newcomers alike will welcome this creative journey into an inky new world!
---
From the internationally bestselling creator of Lost Ocean comes a beautiful adult coloring book that takes you on a wondrous expedition through the jungle. Follow ink evangelist Johanna Basford down an inky trail through the Magical Jungle and discover a forgotten world of flora and fauna just waiting to be colored in this new coloring book for adults. Through intricate pen and ink illustrations, color-inners of all ages are invited to explore an exotic rainforest teeming with creatures large and small. Encounter speckled tree frogs and dainty hummingbirds, prowling tigers and playful monkeys. Let your imagination run wild in the leafy treetop canopy or find yourself drawn to the delicate world of sensational blossoms and tropical plants below.
---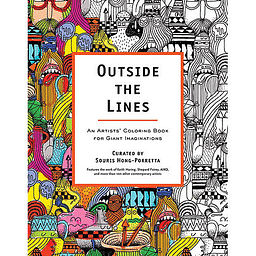 This coloring book features original line drawings from more than 100 contemporary artists and is intended for anyone who loves creativity and contemporary art, or for someone who simply loves the joy of coloring. It contains a striking collection of illustrations from more than 100 creative masterminds including animators, cartoonists, fine artists, graphic artists, illustrators, musicians, outsider artists, photographers, street artists and video game artists. It includes contributions from Keith Haring, AIKO, Shepard Fairey, Exene Cervenka, Keita Takahashi, Jen Corace, Ryan McGinness and more. The book features edgy and imaginative pieces that are ready for artists to add their own special touch.
---