Oil Painting Books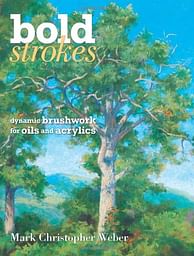 Imagine painting with the virtuosity of the masters. With Bold Strokes, you can learn how, step by step. Beloved artist and teacher Mark Christopher Weber takes this seemingly complex manner of painting and breaks it down into simple, manageable steps that you can apply to your own style. He starts with the very basics so you can achieve success no matter what your skill level. Full-color photos and numbered steps illustrate in-depth instruction.
---
This book is a good resource for the aspiring artist to build proficiency in oil painting. The book opens by covering the basic tools and materials for getting started in oil painting, including brushes, mediums, supports and palette knives. Also included is valuable information for understanding basic color theory, color mixing, working with oil mediums, as well as how to master a range of techniques such as painting thickly and thinly, sponging, blending, stippling, scumbling, dry brushing and others. Artists will also learn how to select subject matter, set up a balanced composition, create textures and use reference photos while learning how to paint a landscape, still life, floral arrangements and more. The easy-to-follow step-by-step instructions make this book a comprehensive resource for artists of all skill levels.
---
Artist and teacher, David Lefel from the Art Students League shares his secrets for making professional quality paintings in this 144-page, paperback book. Topics covered include massing values, chiaroscuro, color and value and handling edges.
---
Oils are perhaps the most versatile of all paint mediums. Yet for many artists oil painting is either shrouded in mystique or considered very difficult. Filled with clear, step-by-step instructions and surefire strategies, The Complete Oil Painter, by author Brian Gorst, is an essential, one-stop guide to becoming an expert in every aspect of this medium. Artists will discover everything they need to know about materials (pigments, supports, canvases); tools and equipment (palettes, brushes); paint application (wet-into-wet, alla-prima, glazing, impasto); form and color (light and dark, expression, color mixing); exploring themes (still life, portraiture, figure painting); and much more. This 128-page paperback edition features 200 color illustrations.
---
This indispensable encyclopedia compares leading brands of oil paints, including such recent innovations as oil sticks, alkyds and water-miscible oils. The book also describes mediums, solvents and varnishes, brushes, palettes and other tools. Both traditional and unconventional techniques are demonstrated, including alla prima, wet-in-wet, drybrush, knife painting, impasto, glazing and scumbling.
---