Painting & Color - Any Media Books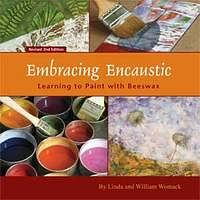 Encaustic is the art of painting with molten beeswax, mixed with colored pigments and resin. The results are like no other medium—mysterious, deep, and translucent, with a glow that seems to emanate from within. It's an ancient technique that has recently been reborn, capturing the imagination of a new generation of painters who are adopting encaustic as their medium of choice. Embracing Encaustic will teach you how to paint with this fascinating medium using simple step- by-step instructions accompanied by full color photographs.
---
This book features clearly written and illustrated projects demonstrating many techniques for using Jacquard's Pearl Ex Powdered Pigments. Step-by-step instructions illustrate the incredible versatility of these beautiful pigments. Techniques covered include stamping, watercolor stamping, backgrounds, fabric painting and much more.
---
Learn all about encaustic painting from its history to tools and techniques in this fully illustrated book. Over 25 traditional, as well as, non-traditional techniques are covered including mixing pigments, incorporating additives, layering in papers and fibers, adding foils, photos and carving, using carved stamps, various inks, glue, watercolor and more. Also contained in the book are complete projects that show you step-by-step how to combine the techniques to create a more complex finished work, and a photo gallery for additional inspiration.
---
In today's fast-paced world, creative people are as eager as ever to pursue their artistic passions, but many of them simply don't have enough time. A perfect remedy for over-burdened artists, the Daily Book of Art includes a year's worth of brief daily readings and lessons about the visual arts that entertain as they inform. The book rotates through ten exciting categories of discussion throughout the course of a year, giving readers a well-rounded experience in the art world. From art history and art around the world to color psychology and aesthetic philosophy, art-starved readers will encounter a broad range of inspiring subjects. The 376-page hardcover book measures 5-1/2" x 8" and features a ribbon bookmark.
---
This book starts at the beginning, helping new painters find what works for them while providing information on all the necessary tools, tips and techniques they will need to create a representational painting. The chapters follow a progressive sequence that teaches basic skills through practical, accessible exercises like how to handle a brush, achieve the right paint consistency, mix color and create dimension. This helps the artist build a solid foundation they can rely on as painting projects grow more challenging. A special feature of the book is the artwork and commentary of real students, which helps the beginner set realistic goals and also shows them how other artists at the same level of experience have worked through inevitable setbacks to achieve success.