Series Books
Based upon the PBS " Joy of Painting" series with Bob Ross, these books teach the beginning painter new approaches to oil painting, as well as help the experienced artist who wishes to brush up on familiar techniques. They teach the complete process, from canvas preparation to a finished painting. Each book contains written step-by-step instructions, black and white how-to photos and full color pictures showing completed paintings.
---
This series offers both beginning and advanced artists the chance to expand their creativity, conquer technical obstacles and explore new media. Written and illustrated by professional artists, they're ideal for artists aspiring to reach a new level of expertise. Each paperback volume is 64 pages.
---
Sure to excite aspiring artists of all ages, this series offers a selection of popular projects. They cover fundamentals and explore techniques of featured artists. Each title provides in-depth instruction and numerous illustrations.
---
The How to Draw and Paint series features titles organized by medium and specially written to encourage and motivate the beginning artist. Each book is chock-full of essential information in an easy-to-follow format and is lavishly illustrated with beautiful drawings and gorgeous art. This series both instructs and inspires.
---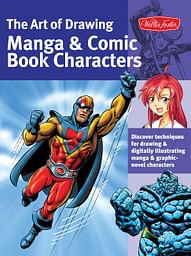 This book offers a comprehensive resource for all things manga, chibi and graphic novel character design. It provides in-depth instruction for rendering a variety of characters, including manga warriors, chibi humans, chibi animals, super-chibis, cartoon characters, comic-inspired superheroes and others.
---
Created by Sachiko Umoto, one of Japan's most popular artists, this book series provides detailed and complete instructions for illustrating fun and appealing characters and elements that celebrate life. The author's distinct style is simple, appealing, happy and cute. The series offers artists, crafters, and art enthusiasts, with and without experience, the instruction and inspiration to draw in the Japanese character style. These books are for artists and crafters of all skill levels that want to bring their own illustrations to their work. They offer both entertaining and fun drawing instructions and techniques along with inspiring and sweet unique-style characters and elements.
---
Ideal for artists who enjoy rendering art with a vintage flair, these collectible books contain original step-by-step art and text previously published in Walter Foster titles from the 1920's to 1940's. They include instructional drawings and art tips for a range of subjects popular in the early 20th century. Practical advice and easy-to-follow instructions make these books as relevant today as when the original titles were first published.
---
Created for tweens and aspiring young artists, Studio Series Books teach basic drawing techniques, color theory and other valuable lessons in art. Each 9" x 12" book contains 128 pages filled with step-by-step themed drawing projects, tips from professional artists and more.
---