Videos & CD-ROMs
Developed for the airbrush beginner, this DVD features artist Kent Lind as he walks viewers through many of the challenges involved with learning how to airbrush from set-up of the air compressor, cleaning and maintenance of the airbrush to the basics of paint type and operation of the airbrush. 78 mins.
---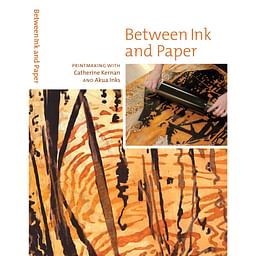 In concise and beautifully filmed demonstrations, this 85 minute DVD reveals the synergy between inks, blocks and color in Catherine Kernan's print process. In an ever-inventive woodcut mono-print process, Kernan exploits unorthodox techniques that are sure to stimulate printmakers from beginner to expert. These include offsets to plastic, viscosity rolls, as well as sandwiching giant plywood blocks together and pulling ink from one block to another. Kernan immerses the artist in the brilliance and transparency of Akua Inks along with modifiers, versatility, their long working time and easy clean up with soap and water.
---
In this DVD, Industrial and Transportation Designer Oliver Neuland presents his own product design rendering techniques in clearly marked out sections. Viewers can observe him as he works his way through basic exercises and talks in-depth about tools needed for each action. Tools and details are referenced on screen throughout his process. Oliver Neuland is a design consultant who has worked and taught throughout Germany and is currently senior Industrial and Transport Design Lecturer at Massey University's Auckland School of Design in New Zealand. This DVD runs 126 minutes.
---