Our downtown store is temporarily closed to the public.
We offer
curbside pickup
, local delivery, and nationwide shipping.
Kevrin+ Synthetic/Natural Brushes
A blend of several natural hairs with a proprietary groundbreaking synthetic fiber meant to create the perfect Mongoose substitute, Kevrin+ is in fact a better brush than its predecessor and offers all the features that a quality oil and acrylic brush requires.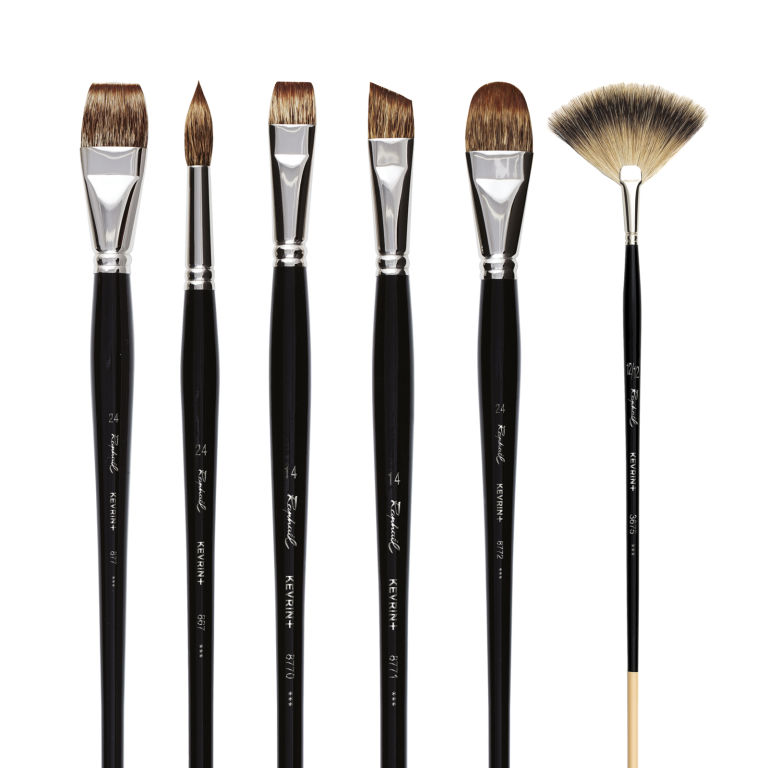 Angular
Item No.
Description
List
Sale
In Stock
RPH-25-8771-04
#04
$93.00
(5 pieces)
$65.10
Out of stock, special order
RPH-25-8771-06
#06
$105.75
(5 pieces)
$74.00
Out of stock, special order
RPH-25-8771-10
#10
$129.00
(5 pieces)
$90.30
Out of stock, special order
RPH-25-8771-14
#14
$100.05
(3 pieces)
$70.02
Out of stock, special order
Bright
Item No.
Description
List
Sale
In Stock
RPH-25-877-04
#04
$93.00
(5 pieces)
$65.10
In stock
RPH-25-877-06
#06
$101.00
(5 pieces)
$70.70
In stock
RPH-25-877-10
#10
$114.75
(5 pieces)
$80.30
In stock
RPH-25-877-12
#12
$147.25
(5 pieces)
$103.10
In stock
RPH-25-877-02
#02
$86.50
(5 pieces)
$60.55
Out of stock, special order
RPH-25-877-08
#08
$109.50
(5 pieces)
$76.65
Out of stock, special order
RPH-25-877-14
#14
$97.80
(3 pieces)
$68.46
Out of stock, special order
RPH-25-877-16
#16
$131.10
(3 pieces)
$91.77
Out of stock, special order
RPH-25-877-18
#18
$171.00
(3 pieces)
$119.70
Out of stock, special order
RPH-25-877-20
#20
$143.60
(2 pieces)
$100.52
Out of stock, special order
RPH-25-877-24
#24
$100.40
$70.28
Out of stock, special order
Fan
Item No.
Description
List
Sale
In Stock
RPH-25-3675-02
#02
$135.00
(5 pieces)
$94.50
Out of stock, special order
RPH-25-3675-04
#04
$144.75
(5 pieces)
$101.30
Out of stock, special order
RPH-25-3675-06
#06
$159.00
(5 pieces)
$111.30
Out of stock, special order
RPH-25-3675-08
#08
$179.25
(5 pieces)
$125.50
Out of stock, special order
RPH-25-3675-10
#10
$198.00
(5 pieces)
$138.60
Out of stock, special order
RPH-25-3675-12
#12
$218.50
(5 pieces)
$152.95
Out of stock, special order
RPH-25-3675-12/12
#12/12
$307.00
(5 pieces)
$214.90
Out of stock, special order
Filbert
Item No.
Description
List
Sale
In Stock
RPH-25-8772-02
#02
$88.25
(5 pieces)
$61.80
Out of stock, special order
RPH-25-8772-04
#04
$97.50
(5 pieces)
$68.25
Out of stock, special order
RPH-25-8772-06
#06
$109.25
(5 pieces)
$76.50
Out of stock, special order
RPH-25-8772-08
#08
$119.75
(5 pieces)
$83.80
Out of stock, special order
RPH-25-8772-10
#10
$135.00
(5 pieces)
$94.50
Out of stock, special order
RPH-25-8772-12
#12
$169.75
(5 pieces)
$118.80
Out of stock, special order
RPH-25-8772-14
#14
$117.15
(3 pieces)
$82.02
Out of stock, special order
RPH-25-8772-16
#16
$156.60
(3 pieces)
$109.62
Out of stock, special order
RPH-25-8772-18
#18
$203.55
(3 pieces)
$142.50
Out of stock, special order
RPH-25-8772-20
#20
$159.70
(2 pieces)
$111.80
Out of stock, special order
RPH-25-8772-24
#24
$106.05
$74.24
Out of stock, special order
Round
Item No.
Description
List
Sale
In Stock
RPH-25-867-02
#02
$76.75
(5 pieces)
$53.70
Out of stock, special order
RPH-25-867-04
#04
$77.75
(5 pieces)
$54.40
Out of stock, special order
RPH-25-867-06
#06
$80.00
(5 pieces)
$56.00
Out of stock, special order
RPH-25-867-08
#08
$86.50
(5 pieces)
$60.55
Out of stock, special order
RPH-25-867-10
#10
$92.00
(5 pieces)
$64.40
Out of stock, special order
RPH-25-867-12
#12
$116.75
(5 pieces)
$81.70
Out of stock, special order
RPH-25-867-14
#14
$85.65
(3 pieces)
$59.94
Out of stock, special order
RPH-25-867-16
#16
$104.40
(3 pieces)
$73.08
Out of stock, special order
RPH-25-867-18
#18
$121.65
(3 pieces)
$85.14
Out of stock, special order
RPH-25-867-20
#20
$98.80
(2 pieces)
$69.16
Out of stock, special order
RPH-25-867-24
#24
$63.10
$44.17
Out of stock, special order
Short Bright
Item No.
Description
List
Sale
In Stock
RPH-25-8770-02
#02
$82.25
(5 pieces)
$57.60
Out of stock, special order
RPH-25-8770-04
#04
$87.75
(5 pieces)
$61.40
Out of stock, special order
RPH-25-8770-08
#08
$104.00
(5 pieces)
$72.80
Out of stock, special order
RPH-25-8770-14
#14
$85.35
(3 pieces)
$59.76
Out of stock, special order