Oriental Brushes
Calli-Sumi brushes are made with coarse, stiff horse hair which gives a crisp touch. Each brush has been made to suit the demands of various styles of brush calligraphy and Sumi-e, an ancient style of painting renowned for its simplicity, grace and beauty.
---
Hake brushes are versatile oriental brushes that are especially suited for thin media. This brush has very wide, flat bristles, good for watercolor and oil, although it is particularly well-suited for ceramic art. The sheep hair bristles are protected by metal ferrules, and the wooden handles are flat and smooth.
---
Hake brushes are unique, flat wide brushes ideal for applying media over large areas, for wash, sizing, gluing and more. The flat handle and soft sheep hair give you excellent brush control. They are indispensable tools when working with delicate and absorbent Oriental papers and on art and craft projects.
---
These Sumi-e artist brushes are made by the best brush makers in Japan. These brushes bear the Kumano Fude quality label and serial number proving their authenticity and quality. Artists, students and teachers will enjoy new found levels of Sumi-e skills as these brushes are discovered and employed. Each of these brushes are hand crafted by skilled brush makers and are of the highest quality. There are many types of brushes for Sumi-e and Calligraphy. Unlike Western brushes there aren't a hundred types with one hair mixture. Each type is its own mixture and size depending on the usage.
---
This Orthodox Calligraphy Brush has a resilient, sharp point set in bamboo and is excellent for calligraphy or Sumi. It is made with quality horse and badger hair with some sheep hair.
---
These sheep hair Hake brushes are both durable and versatile. When wet, they come to a sharp point edge, and are capable of holding a substantial amount of ink or water. They can be used for a variety of applications, including watercolor and ceramic painting.
---

This bamboo sketching pen has two useful ends- one end is used as a pen for ink drawing and painting, the other is a brush for Sumi or color sketching. Ideal for illustrators, fine artists, designers and students. Create initial sketches and simply flip your tool to add bold strokes or color washes.
---
Traditional writing brushes handmade with bamboo and white treated hair. Developed for use with ink, they work equally well with media of similar consistency, including Procion dye and silk paints. They also feature pointed bristles, good for filling in small detailed spaces.
---
Ideal for use with Sumi inks, drawing inks and watercolors, these bamboo brushes are excellent for creating a variety of interesting brush strokes. It is also ideal for coloring and character drawing. The durable, natural hairs are set in bamboo handles.
---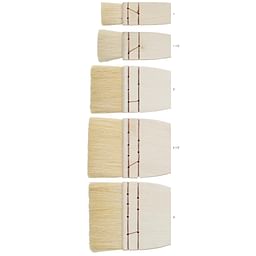 Versatile, flat wide brushes for applying thin media, Hake brushes are handmade with soft, white goat hair stitch-tied into a natural wood handle. They are a good choice for washes and background work and are affordable enough to be used for gluing and mounting.
---
Sumi brushes are unlike watercolor, oil and most other paintbrushes as they are composed of two separate parts. The central core, which determines the height and basic function of the brush, is made of relatively stiff hairs gathered to form a tapered point, while the outer wrapping consists of softer hairs which are selected for their greater water-holding capacity and for facilitating smooth strokes. They feature a combination of horse, badger, deer, and sheep hair of the same length that come to a point when dipped into water. The hair structure ensures smooth maneuverability and dynamic strokes whether light or heavy pressure is applied.
---