Tole, Craft & Hobby Brushes
These flat head brushes feature 100% white hog bristles. Made especially for stencil application on walls, furniture, fabric and other surfaces, the natural flags of the bristles allow them to hold generous amounts of color. The bristles are firm and springy, giving a nice bounce to every application, while maintaining the flexibility needed for subtle shading. They are secured to a comfortable, lacquered natural birch handle with a seamless aluminum ferrule. Set of 3 includes a .25", .5" and 1" brush.
---
All-purpose chip bristle brushes for large surfaces, base-coating, glazing, varnishing, staining or for applying other special finishes.
---
A double-ended instrument, with broad and fine acrylic filament nibs, that can be used to apply any water-based medium. It is especially designed for silk and fabric painting but may be used for applying other water-based mediums and liquid frisket to a variety of surfaces such as watercolor paper, board, canvas, cotton, wood and clay. It can be used just like a brush to lift out, soften edges and blend. The points stay firm when wet so they can be used along a straight edge. Comes with instructions.
---
Included is a variety of size dots for the entire class. The wood handle is easy for small hands to grip. Fun for all ages and economically priced. Each package contains four daubers (one of each size). Sizes: 1⁄2", 3⁄4", 1", and 1-1⁄2".
---
These horsehair brushes with hollow tin handles are perfect for applications requiring one time usage. Use to apply glue, paste, solder or acid. Six brushes per package.
---
These economical single-use foam brushes are preferred by craft painters for their dense absorbent foam and real wood handles. Ideal for the application of enamel, latex, stain, tempera, oil paints and varnish (not suitable for shellac or lacquer).
---
Good quality brushes with wood handles for use with oil-based paints, stains and enamels.
---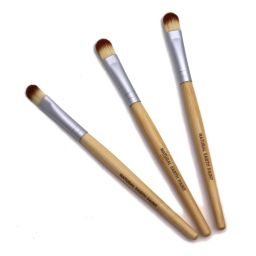 Three eco-friendly paint brushes with bamboo handles and vegan bristles. At 5 5/8" long, they are the perfect size for children's hands.
---
Specially designed by artist Willow Wolfe, these high quality, short handled brushes are made to last. With their robin's egg blue colored handles, they will be a beautiful addition to your existing brush collection as they go above and beyond basic brush shapes and sizes. The Select Brush line features 29 brush shapes that are great for home decor and craft painting, including filbert grainers, oval mops, lunar blenders, dagger strippers, deerfoots and chisel blenders, as well as mini brushes for detail work. Now you can explore traditional and avant-garde techniques on nearly any surface.
---
This tool is both a stylus and a paintbrush. It is for use with devices equipped with capacitive screens, like iPads. Made of tapered synthetic bristles with conductive properties, the brush head gives a satisfying sense of resistance yet moves across the screen easily. When removed, the protective cap serves as a well-weighted paintbrush handle, when the cap is replaced, the brush becomes a sleek rubber-tipped stylus.
---
These high-density foam rollers are great for painting oil and acrylic media on smooth surfaces.
---
Artists can create all sorts of patterns in paint with these durable and easy-to-clean foam rollers. They feature distinctive patterns that young artists are sure to love. The easy-to-grasp handles have handy loops for storage when not in use. The 3-Pack Set contains a plain roller, a patterned roller brush and a thick, flat foam brush. The 4-Pack Sets contain four patterned foam rollers. The patterns in set CE5170 include zig-zags, waves, dots and stripes. The patterns in set CE5171 include wide stripe, checkerboard flowers and hearts.
---
These brushes offer excellent resistance for precise, beautiful stencil art. They have natural wood handles that taper for a more comfortable grip.
---
The unique, non-slip comfortable handles on these brushes give artists the control needed for fine detail work. They feature seamless gold-tone ferrules and synthetic sable blend hairs for better brushability and color holding capacity.
---