Our downtown store is temporarily closed to the public.
We are offering
curbside pickup
, local bike delivery, and nationwide shipping.
Reserva Kolinsky-Tajmyr Sable Brushes
Considered the elite hair for watercolor, Escoda selects only the best Kolinsky male sable hair for this brush. This hair comes from the Tajmyr region in very northern Siberia. Points perfectly and has an extraordinary capacity to retain liquids.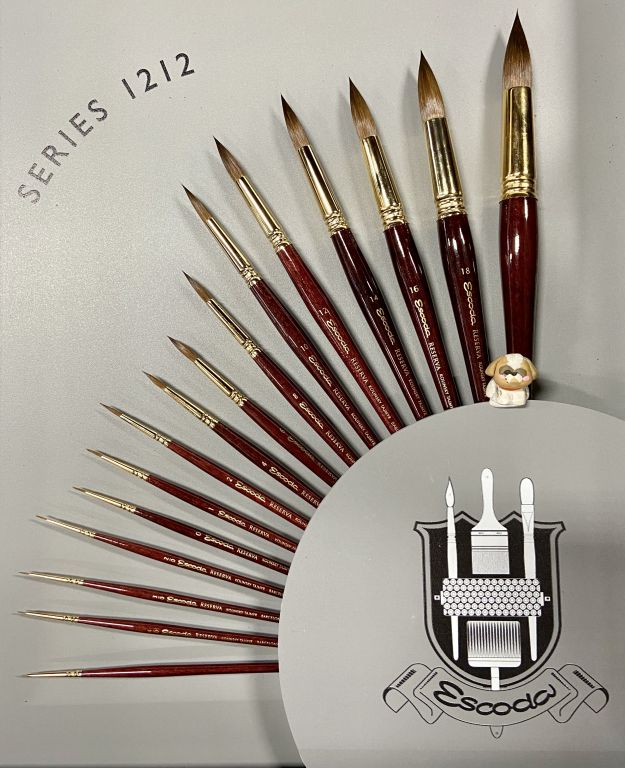 Round
| Item No. | Description | List | Sale | In Stock | |
| --- | --- | --- | --- | --- | --- |
| ESC-1212-0 | #0 | $26.94 | $16.16 | In stock | |
| ESC-1212-1 | #1 | $29.40 | $17.64 | In stock | |
| ESC-1212-10 | #10 | $161.43 | $96.86 | In stock | |
| ESC-1212-12 | #12 | $244.12 | $146.47 | In stock | |
| ESC-1212-14 | #14 | $356.21 | $213.73 | In stock | |
| ESC-1212-16 | #16 | $578.62 | $347.17 | In stock | |
| ESC-1212-18 | #18 | $778.03 | $466.82 | In stock | |
| ESC-1212-2 | #2 | $35.82 | $21.49 | In stock | |
| ESC-1212-2/0 | #2/0 | $26.30 | $15.78 | In stock | |
| ESC-1212-20 | #20 | $1008.48 | $605.09 | In stock | |
| ESC-1212-3/0 | #3/0 | $25.39 | $15.23 | In stock | |
| ESC-1212-4 | #4 | $52.34 | $31.40 | In stock | |
| ESC-1212-4/0 | #4/0 | $25.06 | $15.04 | In stock | |
| ESC-1212-5/0 | #5/0 | $24.82 | $14.89 | In stock | |
| ESC-1212-6 | #6 | $63.60 | $38.16 | In stock | |
| ESC-1212-8 | #8 | $93.27 | $55.96 | In stock | |