Our downtown store is temporarily closed to the public.
We offer
curbside pickup
, local delivery, and nationwide shipping.
8000 Series White Synthetic Watercolor Brushes
These 8000 Series white synthetic watercolor brushes are great value for beginners and experts alike. They are made with a blend of two diameters of synthetic fiber, resulting in a very impressive quality watercolor brush. This is a series that gives the best of both worlds… great quality and a great price!
The rounds are full-bodied and come to a needle point. The flats are quite full when dry and form a sharp edge when wet.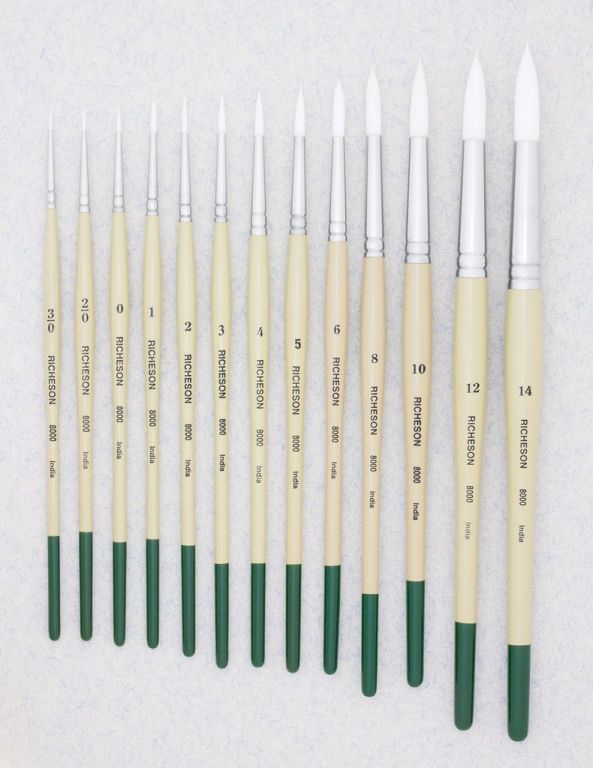 Flat
| Item No. | Description | List | Sale | In Stock | |
| --- | --- | --- | --- | --- | --- |
| JRC-801025 | 1/4" | $8.00 | $3.20 | In stock | |
| JRC-801075 | 3/4" | $22.95 | $9.18 | In stock | |
| JRC-801010 | 1" | $25.95 | $10.38 | Out of stock, special order | |
| JRC-801050 | 1/2" | $13.95 | $5.58 | Out of stock, special order | |
| JRC-801051 | 1-1/2" | $41.95 | $16.78 | Out of stock, special order | |
Round
| Item No. | Description | List | Sale | In Stock | |
| --- | --- | --- | --- | --- | --- |
| JRC-800000 | #0 | $6.45 | $2.58 | In stock | |
| JRC-800004 | #4 | $7.90 | $3.16 | In stock | |
| JRC-800008 | #8 | $10.55 | $4.22 | In stock | |
| JRC-800001 | #1 | $7.25 | $2.90 | Out of stock, special order | |
| JRC-800002 | #2 | $7.40 | $2.96 | Out of stock, special order | |
| JRC-800003 | #3 | $7.65 | $3.06 | Out of stock, special order | |
| JRC-800005 | #5 | $8.50 | $3.40 | Out of stock, special order | |
| JRC-800006 | #6 | $8.60 | $3.44 | Out of stock, special order | |
| JRC-800010 | #10 | $12.80 | $5.12 | Out of stock, special order | |
| JRC-800012 | #12 | $16.30 | $6.52 | Out of stock, special order | |
| JRC-800014 | #14 | $19.65 | $7.86 | Out of stock, special order | |
| JRC-800044 | #2/0 | $6.15 | $2.46 | Out of stock, special order | |
| JRC-800055 | #3/0 | $6.15 | $2.46 | Out of stock, special order | |