Canvas & Canvas Substitute Pads & Sheets
Genuine pre-toned artist canvas acrylic primed for use with oils and acrylics. 8 sheets per pad. Ready to paint on. Multicolor pads include 2 sheets each of Georgia Peach, Tara Gray, Heather Green and Cappuccino.
---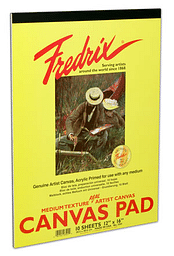 Fredrix Canvas Pads contain genuine artist canvas, primed and ready for use with any medium. Canvas sheets are sturdy enough to be mounted when dry. each pad contains 10 sheets. Available in white and black.
---
The coated surface of these sheets readily accepts oils and acrylics. Ten sheets per pad.
---
Genuine artist's canvas sheets bound into an easily portable pad. There are ten sheets of medium-weight, archival quality, acid-free canvas per pad, each primed with acrylic gesso. Suitable for oils, acrylics, pastels and mixed media.
---
Canvasette is the perfect substitute for woven canvas. Fine for painting in oils, acrylics or casein. Canvas-like surface is pre-primed and may be mounted, stretched or worked on directly. Ten sheets per pad.
---
This cloth-backed oil painting paper, conveniently available in pads, is an economical substitute for canvas. The paper can be mounted and stretched and will not bleed or peel. Ten sheets per cloth-bound pad.
---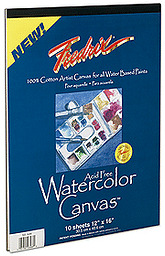 Fredrix Watercolor Canvas Pad is a 100% cotton artist canvas which combines the texture of a natural, woven fabric with a specially formulated gesso designed for all water-based paints. It is versatile and durable. It will not tear like paper and you can lightly lift out pigment or completely wash out your painting surface without damaging the canvas surface. You must staple or mount the canvas sheets to a hard board surface before painting.
---
A black canvas-textured paper great for sketching and practicing techniques with oils and acrylics. Pads contain 10 acid-free sheets of 115 lb. (187 gsm) canvas-textured paper.
---
These white canvas-embossed papers are great for on location sketches and practice techniques using oil or acrylic paint. The student grade canvas pads are tape-bound at the top and contain ten sheets each.
---