Our downtown store is temporarily closed to the public.
We are offering
curbside pickup
, local bike delivery, and nationwide shipping. We will be closed on Thursday, November 26 and Friday, November 27 for Thanksgiving.
Canvas Stretcher Bars, Tools & Accessories
Whether you buy your canvas ready-made or make it yourself, these MDF corners are the perfect way to keep them square. They are also a great way to securely attach cross-braces. Each package contains four 8" MDF corners with pre-drilled holes to make attaching them easy.
These 8" long canvas pliers are constructed of nickel-plated zinc alloy. Their 2-3/8" serrated jaws have mated teeth to assure a firm grip. The handle has a spring return. The package includes simple instructions for stretching canvas.
These heavy duty pliers are made of solid, chrome-finished metal. The non-slip, rubber padded, 4-5/8" jaws grip firmly yet gently, without damaging canvas or fabric, and the sure-grip rubberized handles are easy and comfortable to use. The spring return in the handle provides effortless, trouble-free stretching.
These innovative corner keys can be used to tighten and loosen canvas stretcher bars even if the bars are not keyed for stretching. Each kit contains a set of four keys which can be mounted on wooden stretcher bars (pre-drill with a 3/32" drill bit). Just tighten (or loosen) the center nut to adjust the tension.
These kits, made from solid, finger joint free, kiln-dried wood, each contain two bars, a cross brace, two brace keys, a screw and assembly instructions. The unique design of the stretcher bars allow for frames with maximum strength, stability and warp resistance to be easily built. The wood used to construct the kit is milled with lumber harvested from sustainable forests in Oregon and California. Available in two profiles: Vincent Pro bars have a 7/8" deep profile with a 5/16" relief and Monet Pro bars have a 1-1/2" deep profile with a 1/2" relief.
Heavy-duty solid pine stretcher bars are kiln-dried and finger jointed for stronger, straighter, warp-resistant bars. They feature a tongue and groove miter for easy assembly and a slotted back for easy installation of corner and cross braces. The profile of the bar keeps the canvas up and away from the bar, preventing sagging and impressions on the painted surface. The rounded back edge allows for a tight stretch and an even painting surface. Each bar measures 2"w x 1.5"d and has an 8mm peg hole.
The BEST Aluminum HD Stretcher Bar offers strength, stability, long length capability, and a larger stapling area. It gives you a full 1-3/8" area to staple on the back. The signature rounded profile allows the canvas to drape over the front eliminating ghosting.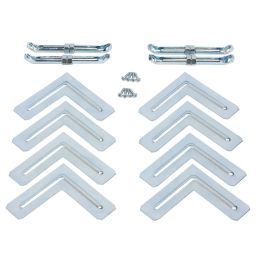 The assembly kit is required for all Aluminum Pro bars. You will need a rubber mallet, a 3/32" drill bit and drill or a screwdriver, and a 1/2" wrench.
The Elite Stretcher Bar Cross Braces connect between Elite Stretcher Bars and Elite Straight Braces. The stretcher bars and straight braces have a patented groove on the inside of the bar and along the edges of the straight brace that work together to provide a solid housing for the cross brace. Two cross braces are required to form a single cross for frames that are 72" and shorter. No cutting or woodworking is required, however a rubber mallet is needed for assembly. Wood glue is recommended at the center cross for increased support. This stretcher bar and bracing system makes it possible to construct very large, strong, museum quality braced canvas frames that are key-able at the corners as well as on every brace that connects to the stretcher bars.
These stretcher bar braces are sold in sets of 4 braces, one for each frame corner and include 8 screws. The unique braces have a tongue that protrudes outward at each end, and is designed to be inserted into the inside perimeter groove of Elite Stretcher Bars. These braces can be used with smaller frames as a substitute for traditional cross braces, offering an economical way to add support to frame corners. For larger frames with cross braces, the braces complement frame support by assuring that the corners of the stretcher bars do not move. Should the frame need to be expanded to add tension, the braces would need to be unscrewed from the frame, removed and then reattached after the frame has been adjusted. The braces are assembled with the simple use of a screwdriver so no cutting or woodworking is required.
These braces are specifically constructed to work with Masterpiece's Elite Heavy Duty Stretcher Bars. Select straight braces by the short frame dimension. For example, the 48" brace would be used with a 48" x 72" canvas frame. These stretcher bars have a patented groove on the inside of the bar that accepts this particular brace. The straight braces slide into the groove and are offset from the stretcher bar forming a slot. There is a long slender key that can be inserted into the slot on the stretcher bar making the brace key-able. No cutting or woodworking is required, only a simple rubber mallet is needed for assembly. These braces also feature a groove running on either edge of the brace that will accept cross braces. When used together Elite straight braces, cross braces and stretcher bars produce a very strong, solid-wood, key-able, professional, museum quality braced canvas frame.
Made from solid wood and without finger joints, these museum-quality, heavy-duty 2¼" x 1½" bars provide a very strong and stable frame for even the largest of canvases up to 144" in size. The tongue and groove components of the stretcher bar are a full ¼" thick, provide maximum stiffness and prevent twisting. The ends of the stretcher bars feature a special tongue and groove miter making it easy to assemble a frame without staples or glue. The unique joint design makes it possible to expand the frame and re-tension a loose canvas. They are also equipped with a unique groove on the inner perimeter of the frame that accepts key-able braces and supports. These stretcher bars are made from solid-wood milled from sustainable forests in both Oregon and California.
The most elaborate museum class framing system on the market in three depths. Each kit includes all of the Bars, Braces, Cross Braces, Corner Keys, Brace Keys, wood glue, and assembly instructions that enable the artist to construct a fully keyable frame that makes it possible to increase surface tension from the corners, as well as from the middle of the frame, where the tension is needed the most!