Our downtown store is temporarily closed to the public.
We are offering
curbside pickup
, local bike delivery, and nationwide shipping.
Economy Stretched Canvas
Back-stapled, primed with acid-free acrylic titanium gesso and made of unbleached cotton, these economical canvases are suitable for oil and acrylic painting. Value packs include two shrink-wrapped canvases.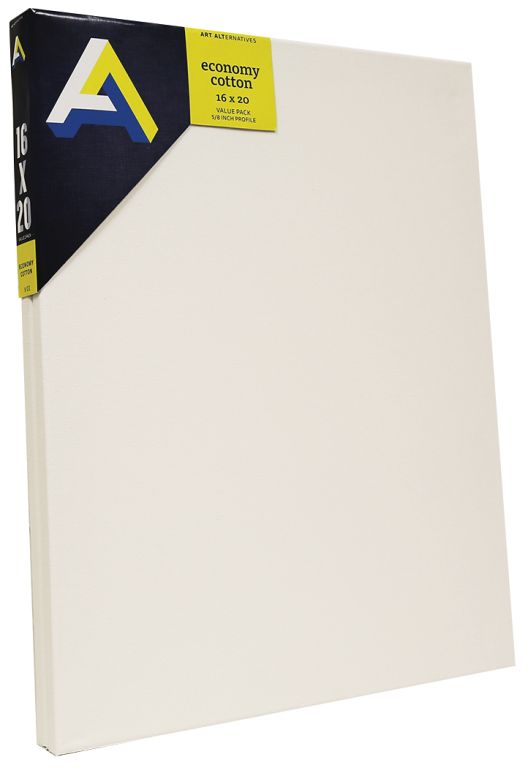 Bulk
Item No.
Description
List
Sale
In Stock
AA5028
16" x 20"
$683.64
(36 pieces)
$342.00
Out of stock, special order
Double Value Packs
Item No.
Description
List
Sale
In Stock
AA5128
16" × 20"
$35.99
$18.00
In stock
AA5108
8" × 10"
$149.90
(10 pieces)
$75.00
Out of stock, special order
AA5109
9" × 12"
$179.90
(10 pieces)
$90.00
Out of stock, special order
AA5119
11" × 14"
$21.99
$11.00
Out of stock, special order
AA5121
12" × 16"
$259.90
(10 pieces)
$130.00
Out of stock, special order
AA5126
14" × 18"
$309.90
(10 pieces)
$155.00
Out of stock, special order
AA5130
18" × 24"
$459.90
(10 pieces)
$230.00
Out of stock, special order
AA5132
20" × 24"
$519.90
(10 pieces)
$260.00
Out of stock, special order
AA5134
24" × 30"
$719.90
(10 pieces)
$360.00
Out of stock, special order