Our downtown store is temporarily closed to the public.
We offer
curbside pickup
, local delivery, and nationwide shipping.
#12 Cotton Duck Canvas Folds
Made with #12 cotton duck, these unprimed canvas folds can be stretched onto bars or painted on directly. And because they are packaged as folds rather than on rolls, they can be more economical and convenient for shipping and storage.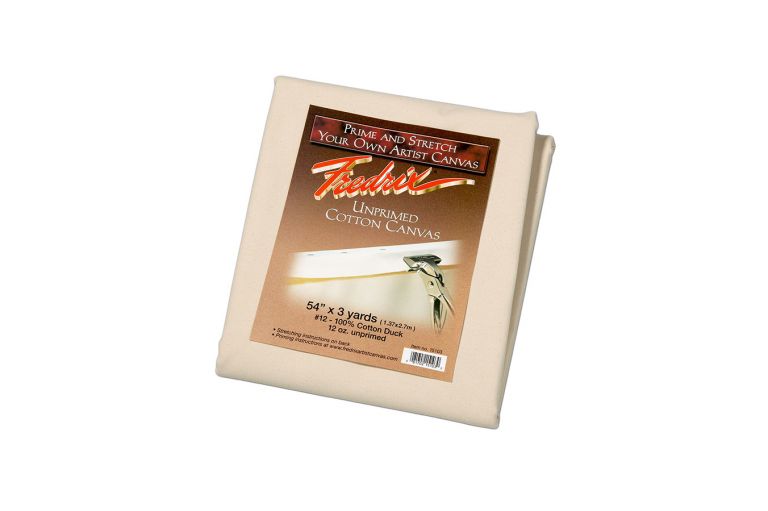 Item No.
Description
List
Sale
In Stock
FDX-15103
54" × 3 yds.
$148.52
(2 pieces)
$118.82
Out of stock, special order
FDX-15106
54" × 6 yds.
$120.10
$96.08
Out of stock, special order
FDX-15113
60" × 3 yds.
$163.78
(2 pieces)
$131.02
Out of stock, special order
FDX-15116
60" × 6 yds.
$136.48
$109.18
Out of stock, special order
FDX-15123
72" × 3 yds.
$179.02
(2 pieces)
$143.22
Out of stock, special order
FDX-15126
72" × 6 yds.
$136.48
$109.18
Out of stock, special order
FDX-15133
84" × 3 yds.
$185.60
(2 pieces)
$148.48
Out of stock, special order
FDX-15136
84" × 6 yds.
$158.31
$110.82
Out of stock, special order
FDX-15143
96" × 3 yds.
$207.44
(2 pieces)
$165.96
Out of stock, special order
FDX-15146
96" × 6 yds.
$169.23
$118.46
Out of stock, special order
FDX-15153
120" × 3 yds.
$251.12
(2 pieces)
$200.90
Out of stock, special order
FDX-15156
120" × 6 yds.
$212.90
$149.03
Out of stock, special order
FDX-15163
144" × 3 yds.
$282.84
(2 pieces)
$226.28
Out of stock, special order
FDX-15166
144" × 6 yds.
$229.28
$160.50
Out of stock, special order