Our downtown store is temporarily closed to the public.
We are offering
curbside pickup
, local bike delivery, and nationwide shipping.
Aquabord
Ideal for watercolors, this panel simulates the absorbency and texture of cold pressed paper with some significant advantages. The clay mineral holds colors in suspension, allowing them to flow into each other to create seamless washes. There is no chance of buckling and no backing board is required. The panels are 1/8" thick. The cradled version features 2" supports that are glued flush with the back edge of the panel. This provides extra support while giving the panel depth and dimension, making it ready to hang on the wall. The birch plywood cradles can be left unfinished or treated easily with wood stain, gesso or paint.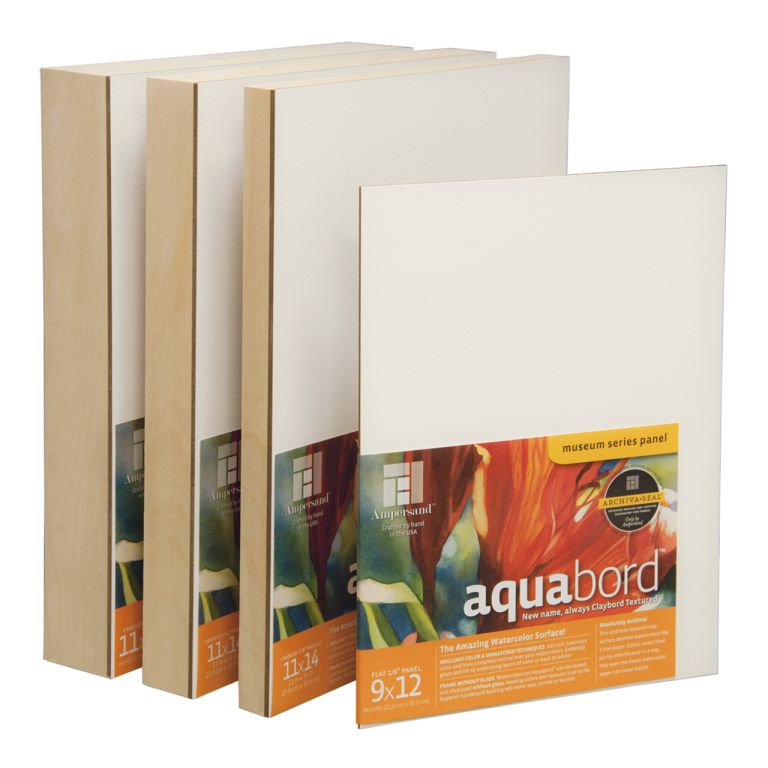 1½" Cradled
| Item No. | Description | List | Sale | In Stock | |
| --- | --- | --- | --- | --- | --- |
| AMCBTG0606 | 6" × 6" | $21.19 | $16.95 | Out of stock, special order | |
| AMCBTG0808 | 8" × 8" | $26.49 | $21.19 | Out of stock, special order | |
| AMCBTG0810 | 8" × 10" | $31.49 | $25.19 | Out of stock, special order | |
| AMCBTG1114 | 11" × 14" | $38.99 | $31.19 | Out of stock, special order | |
| AMCBTG1212 | 12" × 12" | $38.99 | $31.19 | Out of stock, special order | |
| AMCBTG1620 | 16" × 20" | $51.99 | $41.59 | Out of stock, special order | |
| AMCBTG1824 | 18" × 24" | $59.79 | $47.83 | Out of stock, special order | |
| AMCBTG2436 | 24" × 36" | $82.39 | $65.91 | Out of stock, special order | |
2" Cradled
| Item No. | Description | List | Sale | In Stock | |
| --- | --- | --- | --- | --- | --- |
| AMCBTW055 | 5" x 5" | $20.96 | $16.77 | Out of stock, special order | |
| AMCBTW08 | 8" x 10" | $33.17 | $26.54 | Out of stock, special order | |
| AMCBTW088 | 8" x 8" | $28.14 | $22.51 | Out of stock, special order | |
| AMCBTW11 | 11" x 14" | $42.28 | $33.82 | Out of stock, special order | |
| AMCBTW122 | 12" x 12" | $41.32 | $33.06 | Out of stock, special order | |
| AMCBTW16 | 16" x 20" | $59.06 | $47.25 | Out of stock, special order | |
| AMCBTW22 | 22" × 30" | $84.67 | $67.74 | Out of stock, special order | |
7/8" Cradled
| Item No. | Description | List | Sale | In Stock | |
| --- | --- | --- | --- | --- | --- |
| AMCBTC1114 | 11" × 14" | $30.78 | $24.62 | Out of stock, special order | |
| AMCBTC1212 | 12" × 12" | $32.70 | $26.16 | Out of stock, special order | |
| AMCBTC1620 | 16" × 20" | $43.49 | $34.79 | Out of stock, special order | |
| AMCBTC1824 | 18" × 24" | $50.19 | $40.15 | Out of stock, special order | |
Uncradled
| Item No. | Description | List | Sale | In Stock | |
| --- | --- | --- | --- | --- | --- |
| AMCBT09 | 9" x 12" | $10.76 | $8.61 | In stock | |
| AMCBT11 | 11" x 14" | $12.57 | $10.06 | In stock | |
| AMCBT044 | 4" x 4", 4/Pkg. | $7.78 | $6.22 | Out of stock, special order | |
| AMCBT05 | 5" x 7" (3) | $11.96 | $9.57 | Out of stock, special order | |
| AMCBT055 | 5" x 5", 4/Pkg. | $8.73 | $6.98 | Out of stock, special order | |
| AMCBT066 | 6" x 6",4/Pkg. | $10.18 | $8.14 | Out of stock, special order | |
| AMCBT08 | 8" x 10" | $8.73 | $6.98 | Out of stock, special order | |
| AMCBT088 | 8" x 8" | $6.82 | $5.46 | Out of stock, special order | |
| AMCBT122 | 12" x 12" | $11.37 | $9.10 | Out of stock, special order | |
| AMCBT16 | 16" x 20" | $24.32 | $19.46 | Out of stock, special order | |
| AMCBT18 | 18" x 24" | $29.35 | $23.48 | Out of stock, special order | |
| AMCBT22 | 22" x 30" | $42.08 | $33.66 | Out of stock, special order | |