Our downtown store is temporarily closed to the public.
We are offering
curbside pickup
, local bike delivery, and nationwide shipping.
Scratchbord
A rigid hardboard backing and a perfectly inked surface make this the ultimate scratchboard. Made with a thick clay-coating and T100 India Ink. Allows for a full range of tonal values.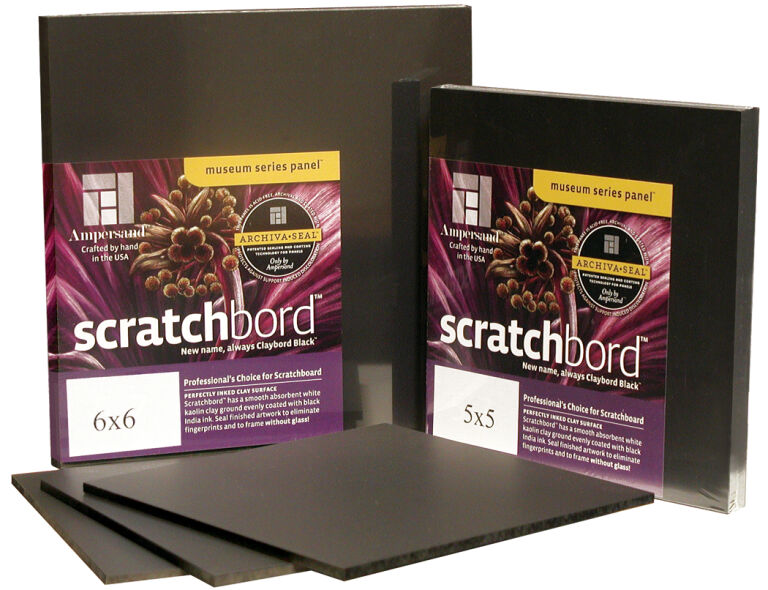 | Item No. | Description | List | Sale | In Stock | |
| --- | --- | --- | --- | --- | --- |
| AMCBB05 | 5" x 7" - 3/Pkg. | $13.89 | $12.50 | In stock | |
| AMCBB055 | 5" x 5" - 3/Pkg. | $10.09 | $9.08 | In stock | |
| AMCBB066 | 6" x 6" - 3/Pkg. | $12.19 | $10.97 | In stock | |
| AMCBB08 | 8" x 10" | $10.49 | $9.44 | In stock | |
| AMCBB088 | 8" x 8" | $9.17 | $8.25 | In stock | |
| AMCBB09 | 9" x 12" | $13.89 | $12.50 | Out of stock, special order | |
| AMCBB11 | 11" x 14" | $15.49 | $13.94 | Out of stock, special order | |
| AMCBB12 | 12" x 16" | $19.79 | $17.81 | Out of stock, special order | |
| AMCBB122 | 12" x 12" | $16.29 | $14.66 | Out of stock, special order | |
| AMCBB14 | 14" x 18" | $22.09 | $19.88 | Out of stock, special order | |
| AMCBB16 | 16" x 20" | $26.09 | $23.48 | Out of stock, special order | |