Our downtown store is temporarily closed to the public.
We are offering
curbside pickup
, local bike delivery, and nationwide shipping.
Cradled Wood Panels
These 4mm sanded birch plywood panels feature a smooth, strong surface mounted on a solid pine cradle. More durable than canvas, they resist flexing or warping. The sanded edges allow work to flow beyond the face of the panel. Great for painting, especially thick, heavy applications and palette knife work, mounting, encaustic, and mixed media; as well as for craft use as a shadow box, frame or tray. Available in two profile depths: Studio panels are 3/4" deep and Gallery panels are 1-1/2" deep.
Panels to be shipped must be ordered in full case quantities and additional shipping charges may apply.
Contact us
for details.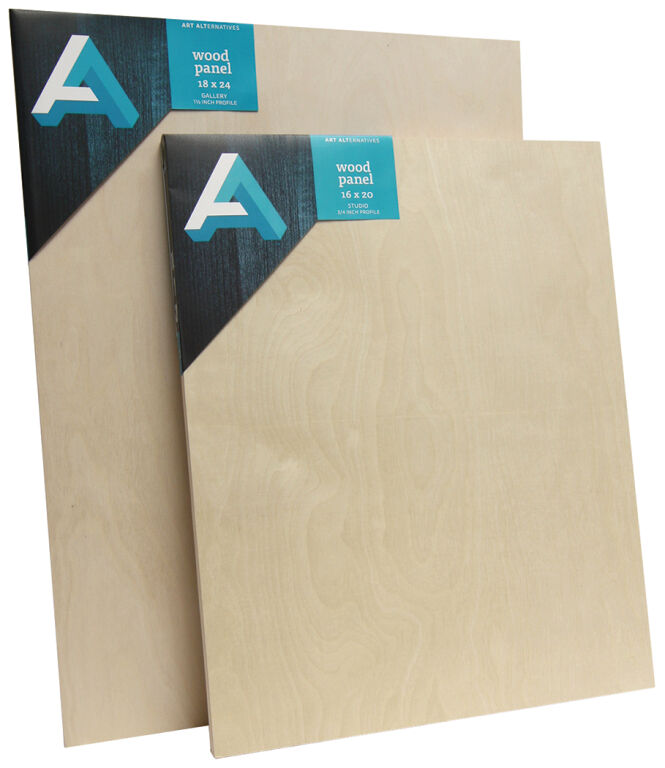 Gallery Panels
Item No.
Description
List
Sale
In Stock
AA46052
6" x 6"
$8.99
$4.50
In stock
AA46053
8" x 8"
$12.99
$6.50
In stock
AA46056
10" x 10"
$16.99
$8.50
In stock
AA46057
11" x 14"
$21.99
$11.00
In stock
AA46058
12" x 12"
$21.99
$11.00
In stock
AA46059
12" x 16"
$27.99
$14.00
In stock
AA46062
16" x 20"
$44.99
$22.50
In stock
AA46063
18" x 18"
$39.99
$20.00
In stock
AA46064
18" x 24"
$52.99
$26.50
In stock
AA46065
20" x 20"
$50.99
$25.50
In stock
AA46066
20" x 24"
$56.99
$28.50
In stock
AA46067
24" x 24"
$66.99
$33.50
In stock
AA46068
24" x 30"
$165.98
(2 pieces)
$83.00
In stock
AA46070
4" × 6"
$7.49
$3.74
In stock
AA46071
5" × 5"
$7.49
$3.74
In stock
AA46073
6" × 12"
$15.99
$8.00
In stock
AA46075
10" × 20"
$29.99
$15.00
In stock
AA46079
14" × 18"
$34.99
$17.50
In stock
AA46082
24" × 48"
$139.99
$70.00
In stock
AA46083
30" × 30"
$104.99
$52.50
In stock
AA46084
30" × 40"
$124.99
$62.50
In stock
AA46085
36" × 36"
$139.99
$70.00
In stock
AA46086
36" × 48"
$184.99
$92.50
In stock
AA46088
48" × 60"
$279.99
$140.00
In stock
AA46089
48" × 72"
$334.99
$167.50
In stock
AA46050
4" x 4"
$16.47
(3 pieces)
$8.22
Out of stock, special order
AA46051
5" x 7"
$26.97
(3 pieces)
$13.50
Out of stock, special order
AA46054
8" x 10"
$43.47
(3 pieces)
$21.72
Out of stock, special order
AA46055
9" x 12"
$53.97
(3 pieces)
$27.00
Out of stock, special order
AA46060
12" x 24"
$85.98
(2 pieces)
$43.00
Out of stock, special order
AA46061
16" x 16"
$69.98
(2 pieces)
$35.00
Out of stock, special order
AA46069
24" x 36"
$199.98
(2 pieces)
$100.00
Out of stock, special order
AA46072
6" × 8"
$32.97
(3 pieces)
$16.50
Out of stock, special order
AA46074
8" × 16"
$65.97
(3 pieces)
$33.00
Out of stock, special order
AA46076
12" × 36"
$135.98
(2 pieces)
$68.00
Out of stock, special order
AA46077
12" × 48"
$209.98
(2 pieces)
$105.00
Out of stock, special order
AA46078
14" × 14"
$55.98
(2 pieces)
$28.00
Out of stock, special order
AA46080
15" × 30"
$125.98
(2 pieces)
$63.00
Out of stock, special order
AA46081
18" × 36"
$169.98
(2 pieces)
$85.00
Out of stock, special order
AA46087
48" × 48"
$234.99
$117.50
Out of stock, special order
Studio Panels
Item No.
Description
List
Sale
In Stock
AA46000
4" x 4"
$4.99
$2.50
In stock
AA46001
4" x 6"
$6.49
$3.24
In stock
AA46003
5" x 7"
$7.79
$3.90
In stock
AA46004
6" x 6"
$7.99
$4.00
In stock
AA46006
8" x 8"
$11.49
$5.74
In stock
AA46007
8" x 10"
$12.99
$6.50
In stock
AA46009
10" x 10"
$13.99
$7.00
In stock
AA46011
12" x 12"
$17.99
$9.00
In stock
AA46014
14" x 18"
$29.99
$15.00
In stock
AA46015
16" x 16"
$29.99
$15.00
In stock
AA46016
16" x 20"
$34.99
$17.50
In stock
AA46017
18" x 18"
$34.99
$17.50
In stock
AA46018
18" x 24"
$45.99
$23.00
In stock
AA46019
20" x 24"
$51.99
$26.00
In stock
AA46020
4" × 12"
$11.49
$5.74
In stock
AA46021
6" × 12"
$12.99
$6.50
In stock
AA46025
14" × 14"
$22.99
$11.50
In stock
AA46028
20" × 20"
$43.99
$22.00
In stock
AA46029
24" × 24"
$62.99
$31.50
In stock
AA46030
24" × 30"
$76.99
$38.50
In stock
AA46031
24" × 36"
$89.99
$45.00
In stock
AA46002
5" x 5"
$25.96
(4 pieces)
$12.96
Out of stock, special order
AA46005
6" x 8"
$35.96
(4 pieces)
$18.00
Out of stock, special order
AA46008
9" x 12"
$15.99
$8.00
Out of stock, special order
AA46010
11" x 14"
$75.96
(4 pieces)
$38.00
Out of stock, special order
AA46012
12" x 16"
$45.98
(2 pieces)
$23.00
Out of stock, special order
AA46013
12" x 24"
$69.98
(2 pieces)
$35.00
Out of stock, special order
AA46022
8" × 16"
$71.96
(4 pieces)
$36.00
Out of stock, special order
AA46023
10" × 20"
$107.96
(4 pieces)
$54.00
Out of stock, special order
AA46024
12" × 36"
$125.98
(2 pieces)
$63.00
Out of stock, special order
AA46026
15" × 30"
$109.98
(2 pieces)
$55.00
Out of stock, special order
AA46027
18" × 36"
$155.98
(2 pieces)
$78.00
Out of stock, special order
AA46032
30" × 40"
$219.98
(2 pieces)
$110.00
Out of stock, special order
AA46033
36" × 48"
$329.98
(2 pieces)
$165.00
Out of stock, special order