Our downtown store is temporarily closed to the public.
We are offering
curbside pickup
, local bike delivery, and nationwide shipping.
MDF Panels
Designed for painting, mounting, encaustic, and mixed media, these 5mm boards provide a smooth, strong and warp-resistant surface. They are also great for creating a customized panel or drawing board, or for stretching watercolor paper. Each panel features two dovetail slots for easy hanging of artwork.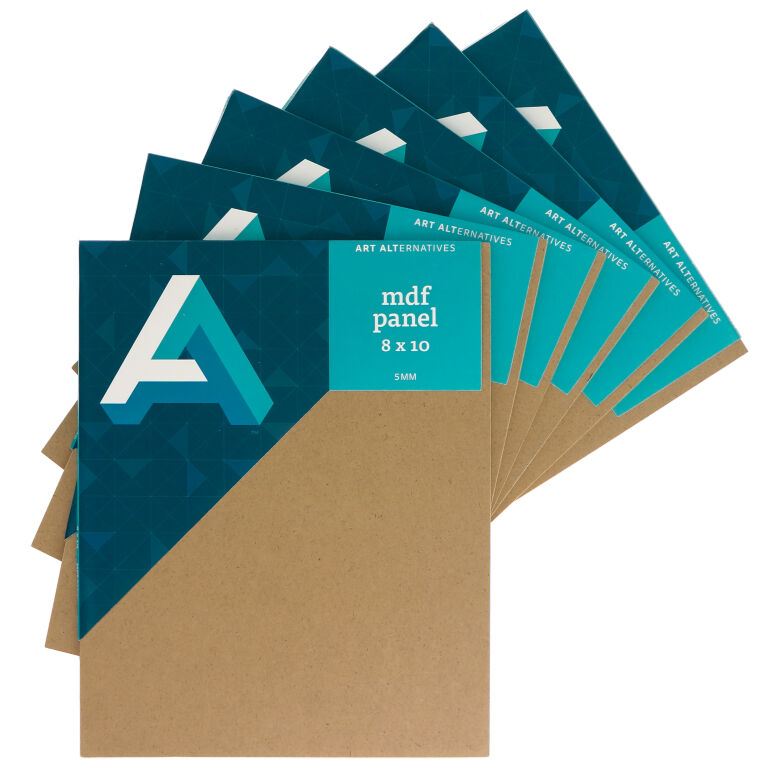 Item No.
Description
List
Sale
In Stock
AA47000
4" x 4"
$1.15
$0.58
In stock
AA47001
5" x 5"
$1.65
$0.82
In stock
AA47002
5" x 7"
$1.85
$0.92
In stock
AA47003
6" x 6"
$1.85
$0.92
In stock
AA47004
8" x 8"
$2.55
$1.28
In stock
AA47005
8" x 10"
$2.95
$1.48
In stock
AA47006
9" x 12"
$3.65
$1.82
In stock
AA47007
10" x 10"
$3.35
$1.68
In stock
AA47008
11" x 14"
$4.95
$2.48
In stock
AA47009
12" x 12"
$4.75
$2.38
In stock
AA47010
12" x 16"
$6.15
$3.08
In stock
AA47012
16" x 20"
$9.85
$4.92
In stock
AA47013
18" x 24"
$12.65
$6.32
In stock
AA47014
20" x 24"
$14.85
$7.42
In stock
AA47017
6" × 8"
$2.25
$1.12
In stock
AA47018
6" × 12"
$2.95
$1.48
In stock
AA47025
24" × 36"
$29.65
$14.82
In stock
AA47011
14" x 18"
$56.94
(6 pieces)
$28.44
Out of stock, special order
AA47015
4" × 5"
$10.74
(6 pieces)
$5.40
Out of stock, special order
AA47016
4" × 6"
$11.94
(6 pieces)
$6.00
Out of stock, special order
AA47019
10" × 20"
$50.94
(6 pieces)
$25.44
Out of stock, special order
AA47020
12" × 24"
$68.94
(6 pieces)
$34.44
Out of stock, special order
AA47021
16" × 16"
$56.94
(6 pieces)
$28.44
Out of stock, special order
AA47022
18" × 18"
$71.94
(6 pieces)
$36.00
Out of stock, special order
AA47024
24" × 30"
$167.94
(6 pieces)
$84.00
Out of stock, special order