Body Art
Set includes 6 paint-on colors (1 dram bottles – enough for 70-80 tattoos), brush, alcohol pads, setting powder, alcohol and 2 each Variety Outline Transfer Sheets.
---
Kit includes 4 oz. 70% isopropyl alcohol pump bottle, client care cards, 2 oz setting powder, 1 oz Medea Airbrush Cleaner, 80 cotton pads and carrying case.
---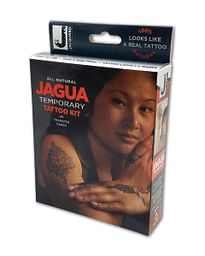 Fruit-based and 100% natural, Jagua produces bluish-black tattoos that last 1-2 weeks and look real. Test drive your tattoo ideas or fool your friends—it's only temporary!
---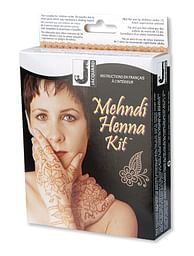 Create exotic temporary tattoos in the East Indian style using this henna dye kit. Everything needed to create your own body art is included. Tattoos last approximately 10 days.
---
Body art made with henna and jagua lasts a long time (up to two weeks) and creating a new design directly on the skin can be nerve-wracking. When it comes to giving yourself, your friends or your clients a temporary tattoo, Body Art Transfer Paper can provide peace of mind. It is especially useful for transposing designs from paper (a sketchbook, magazine or even computer screen, for instance) to the skin. It is also helpful for imagining symmetrical or otherwise complex designs on the contours of the body, which is not exactly a flat surface, after all.
---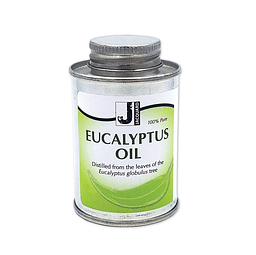 Commonly used as a fragrance and for its many medicinal and antibacterial properties, eucalyptus oil is also used with henna and jagua for body art applications. The natural solvents in essential oils help produce darker stains from these natural colorants.
---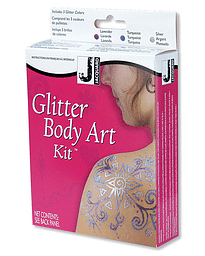 Non-permanent body art with a shimmery twist! Draw on designs with the medical-grade adhesive using the fine applicator bottle or apply through one of the 6 included stencils. Also can be applied with a brayer and a rubber stamp. Just let the adhesive dry a little, dab on the glitter and the design is done! Designs last for days or are easily removed with baby oil.
---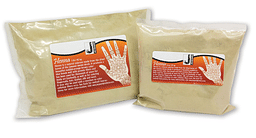 Henna is a natural colorant made from the dried leaves of the Lawsonia inermis shrub. It produces a beautiful reddish-orange-brown color that bonds well with protein fibers and has been used for thousands of years to dye skin (mehndi), fingernails, hair, leather, silk, and wool. On cellulose fibers, it produces a pale ecru color and must be used with a mordant.
---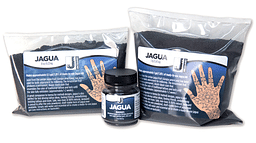 Jacquard's Pre-mixed Jagua Powder makes creating reliable jagua gels for body art easier and more economical than ever. Simply add water and essential oil to make ready-to-use jagua gel with excellent drape and flow, that leaves a consistently dark stain on the skin.
---