Cyanotype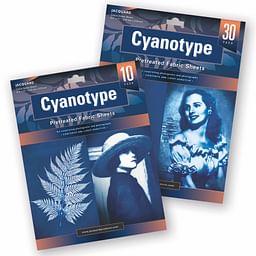 These pre-treated Cyanotype Fabrics make cyanotype printing easier than ever before. Simply expose the fabric to sunlight or UV (3-15 minutes, depending on conditions), placing objects or a film negative on top to create an image. After exposure, prints are processed in a tray of cool water and allowed to air dry.
---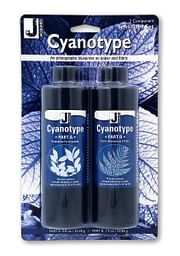 This set makes DIY cyanotype printing as easy as can be. The chemistry comes pre-measured in lightproof black bottles.
---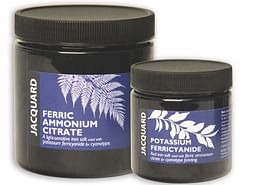 These chemicals are used for Cyanotype, a photographic printing process that produces a cyan-blue print. Potassium Ferricyanide is a light-sensitive iron salt. These salts are mixed with water to make solutions for cyanotype printing.
---
Experience the magic of sun-printing with the Cyanotype Class Pack! Cyanotype is by far the easiest and most magical sun printing process there is, and with Jacquard's Cyanotype Class Pack, students can experience the full breadth cyanotype's potential in a single lesson. The pack comes with everything needed to make prints from objects ("photograms"), drawings or photographs—all you need is a sunny day! The cyanotype process ties in well to art, science, photography, chemistry and nature lessons/curriculums.
---