Home Decorating Paints & Finishes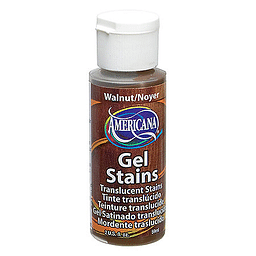 Americana Gel Stains are ideal for producing antiqued or stained finishes on wood or other hard surfaces. Their thick and creamy consistency makes it easy to work without making a mess, and the water-based formula eliminates the fumes of typical oil-based products.
---
This paint produces a chalky matte finish that can be used to create vintage decor pieces. It can be used to up-cycle any piece, including laminate. No need to prime or sand work surface due to the chalky adhesion technology of the paint. It provides excellent opaque coverage, and can be mixed with wax to create transparent wash effects. The paint can be easily distressed to create a vintage look. It can be buffed to a smooth, shiny finish on it's own or by using a creme wax. Can be used on wood, ceramics, most plastics, canvas, terracotta, fabric, metal and glass. It is water-based and non-toxic for quick and easy cleanup.
---
Create an aged appearance on a variety of surfaces with this clear crackle finish. Simply apply an even coat of the medium over a dry basecoat and allow to dry, or apply a thin coat of contrasting colors on top of the dried medium and crackling will affect the top layer of paint while drying, exposing the basecoat color. The thickness of medium application will determine the size of cracks and the direction of brush strokes will create different crackling patterns. Available in 8 oz. jars.
---
Give raw, stained wood or painted pieces a hand-rubbed luster and durability with these creme waxes. The wax formula will deliver a smooth application and a streak-free finish that is protective and can be buffed to a brilliant sheen. It is fast drying, low-order, water-based and non-toxic.
---
Add old-world, European, shabby chic and vintage imagery to furniture and home decor accents with this image transfer clear medium. The permanent, water-based formula dries clear and has a low odor. It will not change the sheen of paint, can be used as a topcoat for added durability and it can also be used with laser copies.
---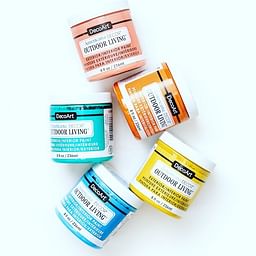 Americana Decor Outdoor Living is a specially designed acrylic paint that gives a durable, weather-resistant finish to interior and exterior home decor projects. The beautiful eggshell finish does not require an additional sealer. There is no need to sand or prime before using. It's the ideal paint for refurbishing patio furniture, deck boards, terra cotta pots, outdoor signs, and more.
---
This stain blocker and primer can be used under paint to prevent excretions from knotty wood and tannins from resurfacing and discoloring finished pieces. For best results allow sealer to cure for 3-5 days before painting.
---
These varnishes are available in a variety of sheen levels, and can be used to provide indoor and outdoor surface durability. They can be used on raw wood, or as a topcoat over any acrylic paint. The varnishes are non-yellowing and resistant to household cleaning chemicals. They are fast drying, water-based, low-odor, non-toxic and cleanup quickly and easily.
---
Use these solutions as a finish coat or base coat for treating surfaces with Instant Antiquity patina or tinting solutions, on any paintable surface.
---
These solutions will produce a verdigris patina finish on metals of solid copper, brass and bronze. They may also be used as a second coat on top of surfacing solutions. Instant rust may be used on raw iron and raw steel. All of the solutions may be mixed with each other for multi-patina effects.
---
For preparing non-metallic surfaces for application of Instant Antiquity metallic surfacers, this primer/sealer dries clear and may also be used as a protective final coat over finishes.
--- A perfect introduction to the process of patination, this set contains: 2 oz. bottles each of Copper Topper and Patina Green. Solutions enough to cover up to 5 square feet of surface.
---