Transfer Paper
This inkjet decal paper was specifically designed to transfer images to textiles. It does not need to be sprayed with a cover coat like other inkjet waterslide decals, and the inks become waterproof after 30 minutes allowing the decal to be put in water without the colors washing away. Each pack contains five 8-1/2" x 11" sheets for either light or dark textiles, depending on the pack.
---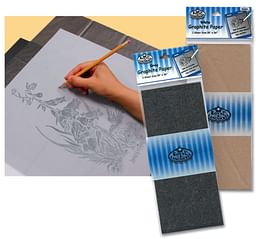 This pressure sensitive graphite paper acts like carbon paper without a messy residue, and may be used to transfer images and patterns onto almost any art or craft surface. One 18" x 36" sheet per package.
---
Wax-free paper for transferring designs to surfaces to be painted, stitched, carved, etc. In 12" x 12' rolls.
---
This 20" x 26" light-weight paper is used to transfer artwork from paper to pottery, wood, etc. Pack of 25 sheets.
---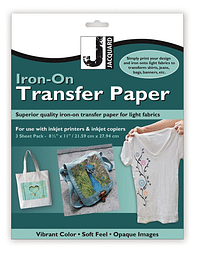 Create unique personalized t-shirts, bags, shorts, and banners with this iron-on transfer paper for light fabrics. It can be run through an inkjet copier or printer, or you can also draw directly on it with crayon, markers, or inks. Three sheets per pack.
---
Use this black graphite transfer paper in applying or transferring designs to surfaces such as wood, metal, paper or ceramics.
---
Graphite paper that is wax-free, greaseless and has a lighter coating than regular transfer paper. Leaves erasable marks. Twelve 18" x 24" sheets per box.
---
Assortments with five 8-1/2" x 11" sheets of wax-free transfer paper. The Sampler contains one sheet each of blue, graphite, red, white and yellow. The Tole & Craft Kit contains one sheet each of graphite and yellow and three sheets of white.
---