Transfer Paper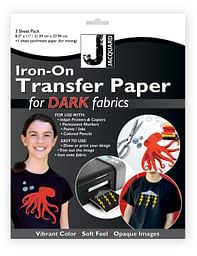 Jacquard's Transfer Paper for Dark Fabrics makes customization easier than ever! The most durable and washable transfer paper available, this premium iron-on option was developed for all sorts of fabrics, including spandex and stretchy materials, with new technology that allows for natural movement, feel and drape on the garment.
---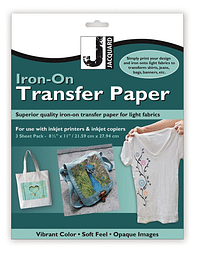 Create unique personalized t-shirts, bags, shorts, and banners with this iron-on transfer paper for light fabrics. It can be run through an inkjet copier or printer, or you can also draw directly on it with crayon, markers, or inks. Three sheets per pack.
---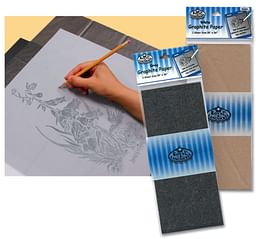 This pressure sensitive graphite paper acts like carbon paper without a messy residue, and may be used to transfer images and patterns onto almost any art or craft surface. One 18" x 36" sheet per package.
---
Wax-free paper for transferring designs to surfaces to be painted, stitched, carved, etc. In 12" x 12' rolls.
---
Use this black graphite transfer paper in applying or transferring designs to surfaces such as wood, metal, paper or ceramics.
---
Graphite paper that is wax-free, greaseless and has a lighter coating than regular transfer paper. Leaves erasable marks. Twelve 18" x 24" sheets per box.
---
Assortments with five 8-1/2" x 11" sheets of wax-free transfer paper. The Sampler contains one sheet each of blue, graphite, red, white and yellow. The Tole & Craft Kit contains one sheet each of graphite and yellow and three sheets of white.
---