Cutting Accessories
Mark patterns and trace lines easily and quickly with these double-sided pounce wheels. They're fitted so that they can either swivel to follow circles and curves, or be locked for straight work. Fifteen teeth per inch.
---
Ideal for miniature work with plastic, thin metal and balsa wood, this set includes a 6" aluminum mitre box and a 5" fine-tooth razor saw blade and handle. Each unit of the mitre box has two 45° and one 90° angle cutting slots. The saw blade has 54 teeth per inch and a cut depth of 1.25".
---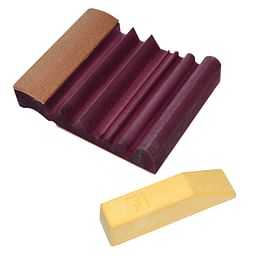 The Flexcut SlipStrop is an economical way for maintaining a razor's edge on carving tools and knives. It has been specially molded to allow for polishing and deburring the hard-to-reach areas on the inside of V-Tools and Gouges as well as the outside edge bevel. It includes a small bar of Flexcut Gold polishing compound and detailed instructions.
---
This knife holder provides and easy and convenient way to store your knives.
---
This 32" aluminum rail features channel rail on one side and dual scale on the other. The FoamWerks Channel Rail is compatible with FoamWerks Straight Cutter and V-Groove Cutter.
---