Cutting Mats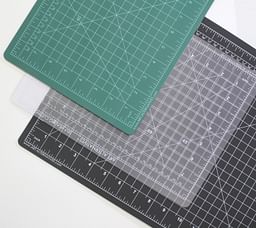 Protect your table top from sharp blades, writing instruments and other art and craft tools. These 3mm thick PVC mats feature a durable 5-layer construction, a non-slip, non-glare surface, 1/2" grid with 1/8" marks for precise alignment as well as 45° and 60° guides. Resilient self-healing surface won't break down with repeated use and actually prolongs the life of knife blades.
---
Top quality cutting mats with five layer construction for a full 3mm thickness that ensures durability and long life. Self-healing on both sides. A half inch grid pattern on the top side also contains angle cut guides, and both inch and metric scales. Available in colors or practically clear translucent, unequaled in clarity.
---
X-Acto cutting mats offer an ideal cutting surface that' s self-healing and very durable. They come in two styles: gray- an opaque 3mm mat with a non-slip bottom, and white- a translucent 1.7mm mat for use on light boxes. Both have 1" grid patterns on their surfaces to aid in cutting. These quality mats heal cuts perfectly every time, outlasting most other cutting mats.
---