Our downtown store is temporarily closed to the public.
We offer
curbside pickup
, local delivery, and nationwide shipping.
Combination Geometry Sets
This 7-piece set contains a versatile combination of technical drawing tools in a reusable storage box. It includes a 4" side-screw bow compass, a technical adaptor, a self-centering knee joint compass/divider, an extension bar, a 1-1/2" divider point, spare lead and a lead pointer.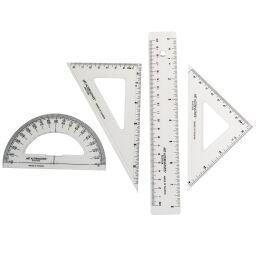 Packaged in a plastic pouch with two divided pockets, these sets each contain a 180° Protractor, 45° and 60° triangles with beveled inking edges and a 6", 8" or 12" ruler. The rulers and triangles all have inch and centimeter calibrations. The sets with the 6" and 8" rulers have holes on the side of the pouch so that they can be stored in a 3-ring binder.
This 2-piece set includes a compass and protractor made of shatter-resistant plastic. The compass allows you to draw accurate angles and circles up to 12" in diameter. It features a safety tip that keeps the compass in place without tearing your paper. The 180° protractor is divided into one degree increments and has both inch and metric markings.
Blue-tinted instruments in metric graduations. Includes: bevelled-edge ruler, 12cm protractor and pair of 16cm 45u730° and 60u730° triangles.