Drawing Boards
Portable, light-weight work surfaces that are more effective than your dining room table and less expensive to replace! With these light-weight drawing boards, you will have a stable, sturdy surface for working on any art or craft project, anywhere. The metal edge maintains a reliable track for T-squares, and the honeycomb core construction prevents surface warping. The wood is kiln-dried and sanded to a satin finish that resists pencil indentations.
---
These top quality, light-weight 11/16" thick boards are a must for every draftsman and engineer. The drawing surfaces are 2-ply basswood, permanently attached to a honeycomb core, which gives these boards excellent strength yet keeps them light-weight. The Feather-Weight drawing board has solid basswood edges that are straight, smooth and parallel. The Metal-Edge drawing board has specially machined, triple-groove, metal-edges along the short side, assuring a permanent, true square edge.
---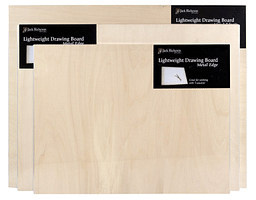 These lightweight drawing boards provide firm support for working alone or on an easel. The surface is made of smooth, sanded hardwood laminate while the interior is made up of honeycomb matrix – giving you a warp-resistant surface. The metal edge is perfect for working with a T-square!
---