Graphic Arts Rulers
Clear, plastic 18" ruler, marked in picas, agates and 1/8" graduations. Excellent for graphic arts.
---
Used for the calculation of enlargements or reduction of photographs, artwork and layouts. Provides number of times of reduction as well as percentage of enlargement. Consists of two circular discs, one white laminated vinyl and one colored laminated vinyl.
---
This transparent plastic, 3" x 13-3/4" ruler is printed on transparent plastic and laminated for permanency. It includes scales in picas, point sizes and a leading gauge.
---
Ideal for printing and layout professionals, these rulers are calibrated with inches and picas on one side and centimeters and points on the other. Alumicolor's photo anodizing process make the calibrations a part of the aluminum, providing a smooth, tick-free finish and markings that are resistant to cleaners and solvents.
---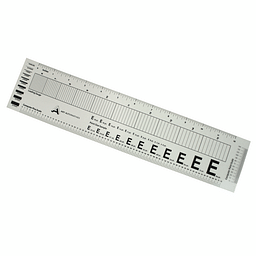 This light-weight, flexible, 12" transparent plastic ruler features 1/16" gradations, scales in picas and point sizes as well as a leading gauge. It measures 3" x 13.75".
---
Ideal for layout, design and type specification. This professional set contains a transparent type gauge and a transparent type specifier, each measuring 4-1/2" x 12-3/8". Each has accurate fine calibrations on a transparent, non-glare surface for full visibility. Each is flexible for measuring flat, curved or cylindrical surfaces. The type gauge ruler has type gauge specifications printed on it as well as metric, inch and agate scales. The specifier is printed with an E-scale chart, printer's point size scale, leading gauge, inch scale, line rulers, bullets and squares.
---
Professional quality 18" laminated plastic ruler with E-scale, inches, picas and agate calibrations. Also includes: proofreading symbols, printer's rulers, screen density guides, copy casting system and typewriter copy counters.
---
This graphic arts type gauge ruler is printed on two sides and includes all scales needed for quick and accurate type specifying. Features precision-cut slots to keep all point size scales flush to the edge for easy measuring. Cut from durable laminated plastic. Scales include: 8-point type gauge, inch scale, pica scale, agate scale, E-scale chart, printer's point size scale and ten line rulers- hairline to 24 point. Size: 2-3/4" x 12-3/8".
---