Miscellaneous Tools
These compass leads have pre-sharpened chisel points and work in all standard drawing instruments. Each tube contains five leads measuring 2mm in diameter x 3/4" in length. There are ten tubes per box.
---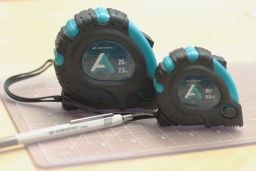 These retractable tape measures feature a wrist strap, pocket clip and three convenient locking stops located on the top, side and bottom. The durable, nylon-coated blade is graduated in both feet and inches in 1/8" and 1/16" increments, as well as centimeters and millimeters. The metal hook end includes two magnets which allow it to stick to metal studs, conduits and other metallic objects for easy measuring.
---
These graph charts feature a grid of blocks 8x8 to the inch. Overall chart size measures 18" × 24".
---