Protractors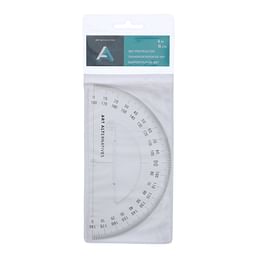 These clear acrylic protractors are divided into 1/2° increments and feature a center cutout for easy lifting.
---
This 12" light-weight, flexible, transparent plastic ruler features a 180º protractor, scales in both inch and centimeter calibrations and 1/8" and 1/4" architectural scales. The inch ruler is divided into a 1/8" grid with a 1/16" graduated edge, as well as a 1/10" grid.
---
This transparent 6" protractor has a swing arm for precise measuring of angles.
---
Constructed of Heliglas acrylic-type material and calibrated in both 1° and 1/2° engraved markings. Other features of this 6" protractor include a center cut-out with fingerlift and bevelled edges.
---
This clear, round protractor rotates freely, allowing for drawing of angles like a protractor and circles like a compass. The center disc features slots for drawing angles up to 360° and holes for drawing circles from 1/8" to 4" in diameter.
---
This professional quality, 6" protractor is made of tinted acrylic .09" thick with beveled edges. It is graduated in 1/2 degree increments and has an open center for convenient finger lift.
---
These transparent 180º protractor rulers have scales in both 1/16" and centimeter calibrations. The CTSW51 also has 45º and 60º triangle cut-outs plus a French curve symbol.
---