Scholastic & Miscellaneous Compasses
This 18" compass rule set includes the shaft, anchor point, lead holder and lead all in one package. Make circles up to 36". Automatically gives radius, area and circumference. Adjust circle size with fingertip control. Calibrations are in inches on one side and metric on the other. Made from the highest quality aluminum for ultra smooth edges and a solid feel without flexibility. The anodized finish gives a satin like feel, while the photo anodized calibrations are permanent and will not clean or rub off.
---
This 6" nickel-plated brass beam features a black fiberglass sliding adapter. It is packaged in a reusable protective pouch.
---
This 5" tool can be used as a compass or divider and features a self-centering knee joint and removable lead holder secured with a side screw. It comes with a spare 2mm lead and reusable box.
---
Create accurate circles and angles with this durable, metal compass. It has both inch and metric markings, and is perfect for school, office, home and workshop use. Draws circles up to 12" in diameter.
---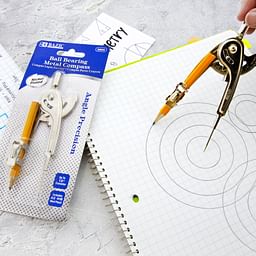 This nickel-plated steel compass withstands bending under pressure to maintain accuracy. The scale arm with easy grip-top control allows for two-sided 6" (15cm) measuring, and the compass makes circles up to 12" in diameter. The secure lock for the pencil allows quick adjustment as needed. Includes a 3.5" #2 (HB) golf pencil.
---
This do-it-yourself compass comes with a pin post and lead point that fit a standard soft wood yardstick and makes large circles and arcs with ease. Adjustments are made quickly, easily, and visually. For cutting circles and arcs, replace the lead with either a circle or stencil blade. Yardstick not included.
---
The nibs for these ruling pens are removable for use in any break-leg compass.
---
As an alternative to the Compass Rule, the Compass Point Kits can be used with your existing ruler or yardstick. The kits include the anchor point, lead holder and lead for drawing circles, plus a rotary knife for cutting circles. The straightedge size fits rulers that are 1/16" thick. The yard stick size fits rulers that are 1/8" thick.
---
An ideal compass for introductory level drawing and drafting, the Speed Bow is made of sleek, satin-finish metal with a center wheel that allows for fine adjustments. It comes with a pack of lead refills.
---