Stainless Steel Rulers

Alumicolor flexible stainless steel rulers are an essential item for any artist or draftsman. Their non-slip cork backing adds value and functionality. 1.25" wide.
---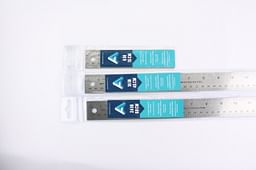 These high quality, flexible stainless steel rulers have both inch and centimeter calibrations and feature a single hole for hanging. Their non-skid cork backing makes them perfect for cutting.
---
This 12" metal safety ruler has a center recess that protects fingers when using the ruler as a cutting guide. Rubber strips on the bottom prevent slipping. It has clear, easy-to-read printing of metric and imperial graduations.
---
Stainless steel cork back rulers, excellent for precise measuring and for use as a straight edge when cutting.
---