Triangles
---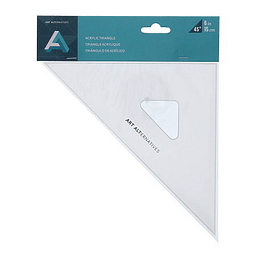 These professional quality, light-weight acrylic triangles have a transparent smoke tint for easy visibility. They also feature a double inking edge to prevent smearing and a double-beveled center cutout finger lift.
---
Made of clear, warp-resistant acrylic for easy viewing, this adjustable triangle is accurately divided into increments of 1/2° from 0° to 90° and has beveled edges. The protractor scale provides additional slope and rise, and features a magnifier for precise, easy-to-read settings. It also has a thumbscrew that locks the angle securely in place.
---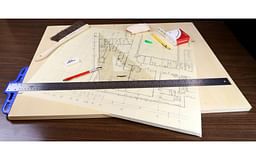 These professional-grade triangles are made with .08" acrylic with a beveled center finger lift and a straight edge.
---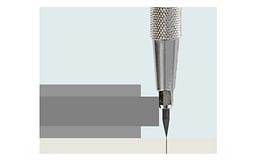 These professional-grade .08" acrylic triangles have a beveled center finger lift and inking edges to prevent smudged lines. The translucent smoke gray color makes it easy to find while still making it possible to see the underlying surface.
---
Two plastic student triangles, 45° and 60°, in each set.
---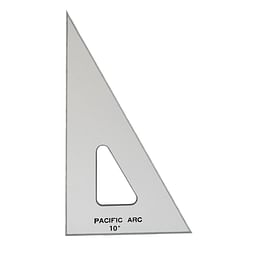 Created from thick pure acrylic: the edges will not break down or feather, making them an even greater value. Subtle topaz tint for easy locating on any surface. Finger lifts in cut-out make for easy gripping. Inking edge is compatible with any writing utensil.
---
These triangles are made of clear acrylic and have center cut-outs.
---
Clear plastic, permits tracing of any angle from 0° to 90°. Inner arc reads degrees of one angle, outer portion reads degrees of complimentary angle.
---