Erasing Machines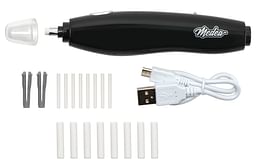 This lightweight and ergonomic Electric Eraser is the ideal tool to create sharp highlights and effortless blends in graphite, charcoal, mixed media and more. Comfortable in either hand, with soft button press and responsive control, it won't interfere with creative movement when forming photo realistic effects like hair, feathers and other precise textures. This electric eraser is gentle on soft materials like sketching paper, yet powerful enough to create stunning contrasts. It comes with both small and large eraser sizes allowing for precision highlights and controlled contours. Plugs into a standard USB-A charger (not included) to recharge.
---
This is one of the lightest, battery-operated, compact erasing machines on the market. Eraser and batteries weigh in at a mere 2.4 oz., and a surprisingly strong torque from the motor will satisfy most users. Its body design allows for easy control and handy storage. The basic kit includes the motorized unit, eraser chucks, two types of erasers and two AAA batteries. Packages of seventy eraser refills are available separately.
---
This battery-operated eraser features a long-lasting, heavy-duty eraser ideal for refining marks and amending small areas. It is comfortable to hold, and the top-mounted on/off button is perfect for both right- and left-handed use. Requires two AAA batteries (not included). Refills are available in packs of 30 erasers.
---
This handy cordless eraser is perfect for removing either pencil or ink marks. Auto Eraser comes with seven pencil and three ink erasers. Requires two AA batteries (not included).
---
These refill erasers are for use with Auto Eraser (HX1960) and are available in two versions: one for ink removal and one for erasing pencil. Each is available in packs of ten.
---
This handheld battery-operated graphite eraser works on paper, drafting vellum and film. It operates with the push of a button. The included eraser pack contains eight latex-free, white vinyl eraser refills and two AAA batteries. Great for erasing small areas or adding highlights to value drawings. 30-refill pack (KOEB-1200ER) available.
---