Our downtown store is temporarily closed to the public.
We are offering
curbside pickup
, local bike delivery, and nationwide shipping. We will be closed on Thursday, November 26 and Friday, November 27 for Thanksgiving.
Manikins
These quality wooden male hands are accurately jointed for posing in a variety of positions. They are made from imported hardwood.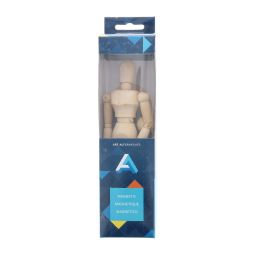 This accurately-proportioned magnetic manikin is flexible enough to mimic many human positions, and can even do handstands or "climb" other metal surfaces. Made of unvarnished hardwood, it features magnetic hands and feet allowing it to go where most manikins can't. It comes with a magnetic ball accessory and stand that can attach to either its hands or feet.
Manikins are useful tools for learning to draw. These are accurately proportioned, and they are flexible enough to mimic many human positions. Each is made of unvarnished hardwood and comes with a stand.
These wooden manikins make perfect pets. No more early morning walks, no mess and no extra attention. The simple shapes with articulated body parts allow the artist to appreciate fundamentals of drawing. They may be utilized as an art tool, creative toy or sculpture and make an excellent addition to any office or studio. The cat measures 7" and the dog measures 6-1/2" in length.
Handmade from hardwood with authentic horse hair tails, these beautiful equestrian manikins are fully adjustable to almost any position. They are perfect as a model for drawing or painting or simply as a moveable sculpture for horse aficionados.
Introducing Arty, your artistic side-kick! He may be small, but he's got big personality. This wooden micro manikin is a cute, 2-1/2" companion that will happily follow you everywhere. Accessorize keys, purses, backpacks - anything!