Furniture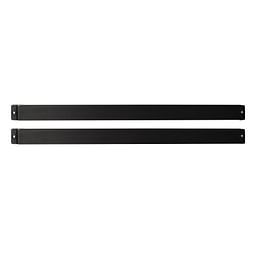 Need to use a light pad for your drawing or drafting? The Light Pad Support Bars attach to the back of Studio Designs' glass top tables, suspending a light pad underneath, securing placement, and preventing scratches. For use with any 6" x 9" or 9" x 12" light pad (not included). Designed for use with the Futura Craft Station, 2 Pc. Vision Craft Station, and Futura Craft Station with Shelf.
---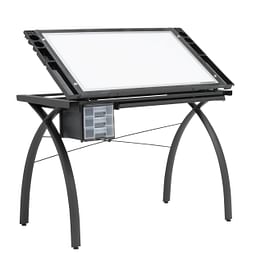 This version of the Futura Craft Station features a built-in Artograph LightPad, and is great for tracing, scrapbooking, embossing, stenciling, calligraphy, quilting and sewing projects.
---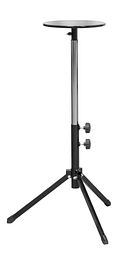 ---
This beautifully handcrafted, adjustable stool constructed of high quality beechwood adjusts to six different heights ranging from 19-3/4" to 31-1/2". Ergonomically designed, it features a foot rest and a back rest. Seat dimensions are 11-1/2" x 13-1/2". The stool folds down to a compact 17-3/4" x 7" x 49-1/2" for easy storage. It can accommodate up to 264 lbs. A perfect companion to the MABEF Painting Workstation.
---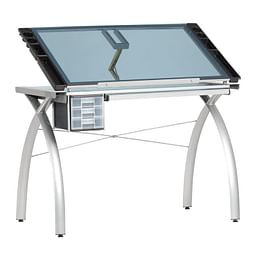 This art and craft table features a tempered blue safety glass top with a 38" x 24" main work surface that adjusts up to a 40° angle. The attractive base is made of heavy-gauge steel construction for durability and a modern look. For added stability this state of the art table has four floor levelers. It is outfitted with a 9-1/2" x 28" pencil drawer, three plastic molded drawers and a 24" pencil ledge. It measures 43"w x 31-1/2"h x 24"d.
---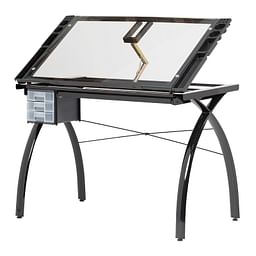 These craft stations are constructed of heavy-gauge steel. Their sturdy safety-glass work surfaces with 24" pencil ledges measure 38"w x 24"d and tilt to 25° for drafting and sketching. The desks have three molded plastic slide-out drawers and a 28"w x 9.5"d pencil drawer. Overall each desk measures 43"w x 31.5"h x 24"d. Assembly is required.
---
The Graphix II Workstation is built for multitasking. The dual top surface creates space for multiple projects at once and the durable heavy gauge steel construction is built to last. Adjust the height of the table up to 38.75" to fit your needs. Available with a 42"W x 30"D Angled Top with 11.5"W Flat Top.
---
With contours designed to fit the body, this desk chair features pneumatic seat adjustment from 17" to 21" in height, a nylon base and casters for mobility. Its overall dimensions are 21"w x 21"d x 33.75" - 39"h.
---
This art and drafting table features a tempered safety glass top with a 42" x 24" main work surface that adjusts up to a 30° angle. The solid wood frame includes a 31"w x 10.5"d wooden drawer with five partitions for storage. It measures 42"w x 31"h x 24"d.
---
The Prime Drawing Table is the perfect starting point for creating a customizable drafting/crafting table. Add a lamp or add a table top tray to the back or either side of the tabletop. Because it is small enough to fit in a bedroom, spare room or apartment it is the perfect solution for people looking to create in a small space. The crisp lines and sharp colors make it an eye-catching addition to a new art studio.
---
Both sleek and functional this stool is ideal for artists and draftsmen alike. The pneumatic gas lift beneath the stool smoothly raises the seat from a height of 18.5'' to 23.5'' for nearly effortless versatility. A sturdy five-star base supports a scratch-resistant chrome footing. Features include 2'' covered wheel casters for secure mobility. Overall dimensions are 15.25"w x 18.5"h x 15.25"d.
---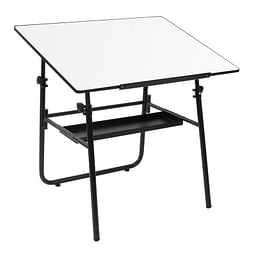 This sturdy, fold-away drafting table offers an adjustable white melamine top mounted on rounded steel, powder-coated frame inserts, which are easily adjusted with the Shure Clamp. Self-leveling glides make angle adjustments simple, and a slide-up pencil ledge eliminates the hassle of stooping to pick up fallen supplies. Includes a 28.5"w x 7.75"d removable storage tray. Dimensions: 42"W x 30"D x 30-1/2"H.
---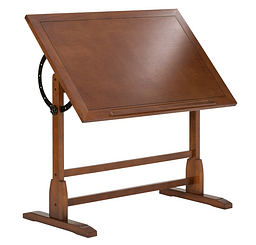 The classic design of this rustic oak drafting table is reminiscent of turn-of-the-century furnishings. It features ample workspace on elegantly distressed wood with a built-in pencil groove. The antique finished surface top adjusts from flat to a 90 degrees angle for versatility. The table features a solid wood frame for durability, and the main work surface measures: 42" × 30".
---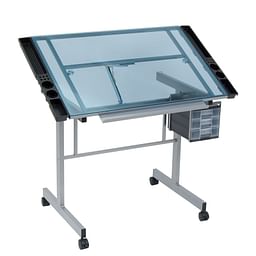 Constructed for durability, The Vision Craft table is made of heavy-gauge powder-coated steel and tempered blue safety glass . The main surface measures 35-1/2"w x 24"h and can be adjusted up to 70°. The table has a 23-3/4"w x 2"d pencil storage ledge, three molded plastic slide-out drawers, two removable side trays for added storage, casters for mobility and two locking wheels for stability. The table measures 40"w x 30-3/4"h x 26"d.
---