Lecture, Display & Sign Easels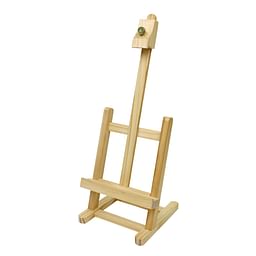 Ideal for displaying paintings, matted artwork, photographs and announcements, this mini H-frame style table easel is made of smooth, finished hardwood. Fully assembled it is 17" in height. The top canvas support lock is adjustable and it will hold a canvas or frame up to 12".
---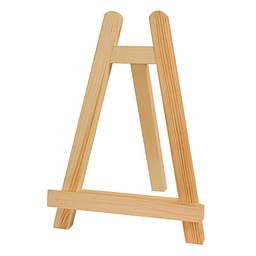 Made of smooth, hand-sanded pine, this mini lyre table top easel is ideal for displaying artwork, photographs and signs up to 12". No assembly is required. Easel measures 7-1/2" x 10-1/2".
---
This sturdy and well designed beechwood print rack holds extra large prints, photographs, posters and digital art in an elegant presentation. It's 34-1/2" wide and stands 40-1/2" high. The rack conveniently folds for shipping or storage and is equipped with casters for mobility. Weighs 30 lbs. 12 oz.
---
Styled after the elegant Lyre Easel, this miniature easel can support a canvas up to 21" in height. Good for display.
---
Styled after the classic Studio Easel, this miniature easel can support a canvas up to 12" in height. Canvas holder height and slant are adjustable. Good for display.
---
Fun and functional, this moveable stand is made of oiled beechwood and features two shelves adjustable in both height and direction, as well as third stationary top shelf with palette support for convenience. The middle shelf has two holes for brush washers (2.6" and 4.3" in diameter) and the bottom shelf has two paper towel holders. It measures 17.3"w x 47.25"h and supports a maximum weight of 11lbs. Simple assembly is required.
---
Display paintings, prints and drawings with this folding Italian-made print rack. Constructed of stain-resistant, oiled beechwood, it' s 22" wide and stands 33" high. A light-weight, portable and attractive solution for presenting your work. Weighs only 7-3/4 lbs.
---
This lightweight easel weighs only 3 lbs. and folds neatly to fit into a briefcase (15"). Yet it's sturdy enough to support materials up to 5 lbs. Made of black steel, the Instant Easel extends to a full height of 63".
---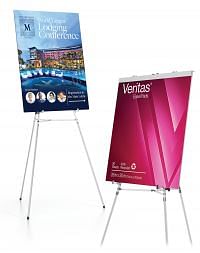 These economical, light-weight easels are popular for use in all types of industry, business, schools, etc. They hold boards, pads, signs and pictures up to 36" high and 48" wide. They feature cross-braced, rubber-tipped, aluminum legs that telescope by releasing a simple lock. The Standard Display Easel is expandable. The Deluxe Display Easel includes a 24" aluminum T-bar and the C-clips. The T-bar is for use w/oversize pads, and the C-clips can make it into a flip chart easel. C-clips are also available separately.
---