Light Boxes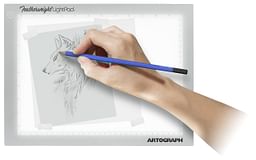 These super lightweight, ¼" thick LED light boxes provided a perfectly even illuminated surface with super-bright LEDs that will last up to 25,000 hours. The cool white (6000-7000K) light brightness is adjustable from 500 to 7,500 Lux.
---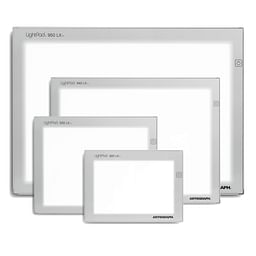 These light boxes feature a super-bright, cool and evenly illuminated surface providing the perfect platform to take projects to the next level. They have a compact 5/8" profile with a durable extruded aluminum frame, and a double layered illuminated surface for a firm work surface. The maintenance-free LED lamps last up to 50,000 hours. They come with a custom protective storage bag.
---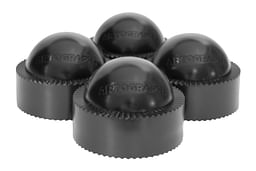 These uniquely designed and easy to use PadPucks provide an adjustable and comfortable drawing angle to any of the LightPads as well as to any tablet, laptop or drawing board. Simply insert the soft non-marring vinyl PadPucks under the LightPad or other surface to the desired angle. Featuring a round serrated design for a non-slip grip and easy stacking. Storage bag included.
---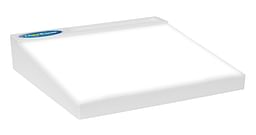 This portable light box features a 10" x 12" slanted tracing surface illuminated by an 8-watt fluorescent bulb. It makes transferring designs and patterns fast and easy. Great for embossing, calligraphy and lettering, memory book making, stenciling and more.
---
This lightbox is 3/8" thick and features dimmable LEDs that provide an even spread of light from edge-to-edge. It weighs only 2 lbs. and is very light-weight. It features a built-in ruler grid and is ideal for tracing, calligraphy, stenciling, embossing, quilting, embroidery, sewing and more. The lightbox is powered by an AC adapter and produces a very low heat.
---