Studio Lamps
These slim, flexible lamps have a modern design and sleek finish. Each has two independently adjustable shades allowing high light output over a very wide area or an intense light over a small area. A touch switch dimmer controls the four brightness levels. The Table and Clamp versions are about 15" tall, the Floor version is 52" tall.
---
These slim, flexible lamps have a modern design and sleek finish. Each has 28 high performance, energy efficient daylight LEDs providing high light output over a large area. The flexible arm directs light exactly where you need it, and there is a touch-switch dimmer to control four brightness levels. The Table and Clamp models are about 15" tall, the Floor model is 52" tall.
---
Choose your light! The combo lamp has a low heat daylight tube (28-watt fluorescent) for color correcting light and an 100-watt incandescent non-daylight bulb for warmer light. You can use the tube and the bulb together or independently. This lamp is widely used by artists who want to vary the color of the light when they are working on a painting or other art project. The lamp has a high quality, durable metal arm with internal springs. It mounts to tables and desks quickly, and the arm can extend out over a project yet is easily pushed out of the way when not needed.
---
This flexible-arm LED lamp mounts easily to almost all tables. The arm is 21" long and head is 3" × 5.5" with an on/off button that controls a 4000K light that puts out 300 Lumens. There is a USB charging port on the base, powered by a standard outlet. The metal mounting clamp adjusts up to 2.25" wide.
---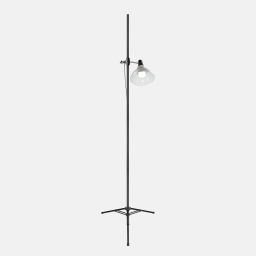 Designed for artists, restorators and photographers working with medium to extra-large size paintings, internal walls sections or other large objects, this lamp features a bright energy-saving Daylight LED bulb (1800 lumen, 6500°K, 80+ CRI) that creates ideal working circumstances for optimal color rendering. This comfortable light eases eye strain, and the lamp has wide shade with reflective coating for maximum light spread. The stable tripod stand can be adjusted to 7 ft. high and can support up to four lamps. The clamp-lock system keeps the lamp firmly attached to the pole, even when adjusting the 5" flexible arm to direct the light in a specific direction. It also has a 10 ft. cord for optimal freedom.
---
Daylight Gemini delivers high contrast and accurate color matching, while keeping cool. It's dual shade flexes to wherever you need them to shine. With a slim structure and upscale design, Gemini is also lightweight yet stable, flexible yet holds any position.
---
The Hobby LED Floor lamp provides you with the ultimate in quality, convenience, energy efficiency and value. The Hobby Lamp also offers full spectrum light that reduces glare and eye-strain, making it easy to do close-up tasks like reading, writing, sewing and general inspection.
---
This unique, stylish slimline magnifier is ideal for all your detailed work. The bright Daylight LED's are low heat so comfortable to work with and no heat in your clients face. With a slimline head and adjustable internal spring arm you can position the lamp easily with one hand exactly where you need the light.
---
The Techne artist & drafting lamp has been specifically designed to be easily mounted on any type of easel, drafting table, drawing board, or a work bench. The fully flexible arm allowing a 360 degree shade rotation, combined with the 320 degree head-flip system, lets you position the light exactly where you want it. When working on an easel or at a table the Techne lets you direct the light to the specific area you are working on - for close-up precision and attention to detail.
---
This is one of the brightest daylight lamps. The 61cm large shade can be smoothly adjusted vertically, horizontally and laterally to any desired position. With this great light you will be amazed how much better you will see the finer details, contrast and true colors in your work. It is also widely used by printers to check print work and books and by jewellers to inspect precious stones and gems. The low heat full spectrum (6500K) daylight light improves contrast, reduces glare and is the best lighting available for colour rendering. This is maybe the best working light you will ever use! Weighted table and floor stands are available separately.
---
These contemporary art lamps have a flexible 13.5" neck for easy adjustment and provide diffused LED lighting. The padded clamp mount attaches easily to tables, easels and more. It also has a USB plug that allows it to be used with any computer or laptop with a USB port. Includes a USB adapter to 110-volt plug.
---
The contemporary styling of the LED Bar Lamp makes it a great addition to any home or office. It has a 12" light bar with 28 LED bulbs and features a 17.75" flexible neck that enables you to direct light wherever you need it. Its built-in USB plug allows the lamp to be used with any computer or laptop with a USB port.
---