Shoe Cleaning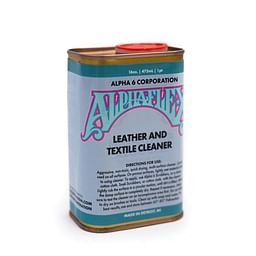 Aggressive, non-toxic, quick drying, multi-surface cleaner. Can be used on all surfaces. On porous surfaces, lightly wet material prior to using cleaner. To apply, use Alpha 6 Scrubbers, or a damp cotton cloth. Soak Scrubbers, or cotton cloth, with the cleaner. Lightly rub the surface in a circular motion, until dirt is lifted. Allow the damp surface to completely dry. Repeat if necessary. Make sure to test the cleaner on an inconspicuous area first.
---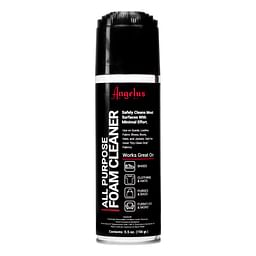 This All Purpose Foam Cleaner is an ideal foaming cleaner for shoes. It's a favorite among athletes and shoe collectors. Just spray shoes with this foam let it sit for a few seconds and wipe off clean. May lift some color off of suede materials.
---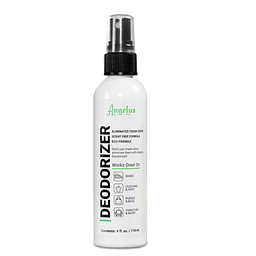 This Deodorizer's scent-free formula ensures the odor causing agents are completely gone. The pump spray makes it easy to use, and it is safe for use on most materials. Excellent for eliminating odors in shoes, boots, clothing, hats, purses, bags, furniture and more.
---
A premium cleaner that's safe for all materials including suede, nubuck, vinyl, straw, canvas and carpet. It will also clean all leathers. A popular, versatile cleaner strong enough to clean soles and sidewalls. Test on an unseen area prior to overall use.
---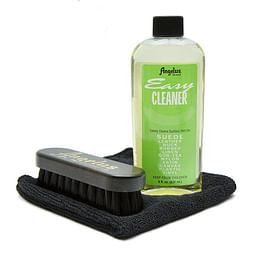 A premium versatile cleaner for all different materials. Strong enough to clean shoe soles and sidewalls, this versatile cleaner can be used to clean many different materials and is still gentle enough to clean suedes and nubuck. This kit includes one Easy Cleaner 8 oz., one Premium Microfiber Towel and one Angelus Premium Cleaning Brush.
---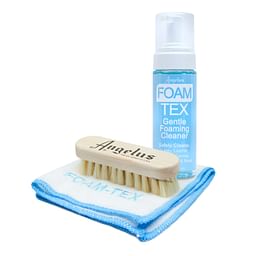 This gentle foaming cleaner uses a pump handle that creates foam directly onto surfaces, no additional water or bowls neccessary. This versatile cleaner can be used to clean many different materials and is still gentle enough to clean suedes and nubuck.
---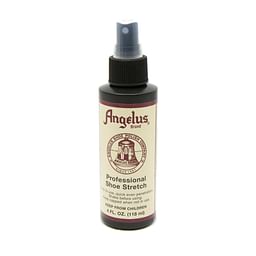 This Shoe Stretch is a leather conditioner that will stretch shoes, and is formulated to clean and stretch tight fitting shoes and boots while they are worn. Works well on leather, suede, linen, canvas and vinyl. Cleans patent leather instantly, and can be used to clean natural suede. Test on a small unseen area prior to overall use.
---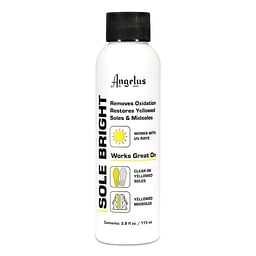 Bring your yellowed soles/midsoles back to life with this amazing product! Completely reverses oxidation that usually occurs on icy/rubber soles. Safe for all soles including glow-in-the-dark; will not hinder glow properties. Available in a 4 oz. bottle.
---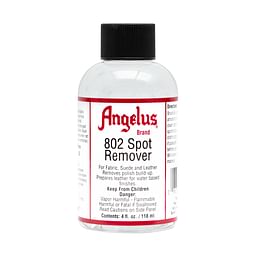 This professional grade solvent is used to remove stains or spots and also prepares leather for dying or painting. Excellent for removing ink and marker stains.
---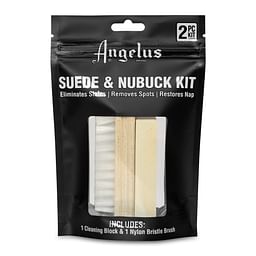 This Suede & Nubuck Kit removes most soil and spots on suede and nubuck. Restores appearance of article with ease. Will not change color or texture. Contains one Suede Eraser and one Nylon Brush.
---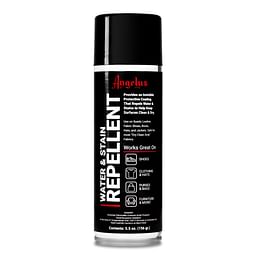 When properly applied, Angelus Water & Stain Repellent will provide an invisible protective coating that repels water and stains to keep leather, suede, Gore-Tex, and many fabrics clean and dry. Safe to use on Dry Clean Only fabrics.
---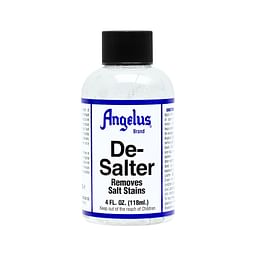 ---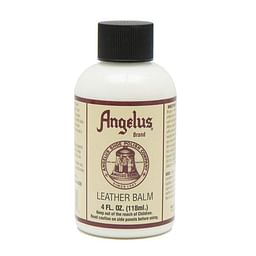 This leather balm is a blend of carnauba wax, natural oils, and cleaners. The same basic time tested formula created in 1907. Ideal for all smooth leathers. Apply with a clean cloth, allow to dry, and polish to a mellow gloss. Leather Balm will help keep leather soft and supple. Will not become excessively slick, making it a great option for use on upholstery and saddlery.
---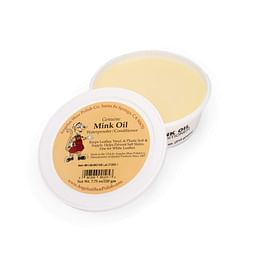 ---