Photo & Mounting Corners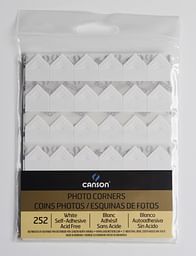 These self-adhesive, archival quality photo corners are packaged in neat lines on peel-off sheets for easy use. There are 252 corners in each peggable package.
---
Transparent and easy to use, these photo corners and squares provide a safe and inconspicuous way to mount precious snapshots and memories. The self-adhesive corners come in packages of 250 while the double-stick, self-adhesive squares come in packages of 500. Both are packaged in handy dispenser boxes.
---
The quick and easy way to mount pictures. The corners are acid-free paper with a neutral pH water activated adhesive. The mylar corners are see-thru and backed with a non yellowing adhesive. Each package contains 240 corners unless otherwise indicated.
---
Mount photos and documents with ease using these 1/2" self-adhesive mylar mounting corners. Crystal clear, they are virtually invisible on the page. The non-yellowing acrylic adhesive backing keeps documents and photos in place, without contacting the artwork. Each box contains 240 corners.
---