Novelties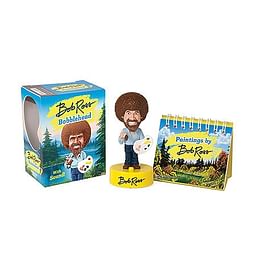 The happy paintings, memorable hairstyle and quirky catchphrases make us grin from ear to ear. This kit includes a Bob Ross bobblehead figure that plays ten different wise and witty sayings from the art master. Also included is a mini easel book featuring landscape works by Bob Ross, which can be displayed alongside the bobblehead figure.
---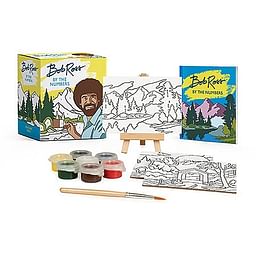 This Bob Ross paint by numbers kit includes three pre-printed canvases with easy-to-paint numbered sections, two landscapes, one paint pot with seven colors, one mini paint brush, one mini easel and a 32 page instruction book with full-color, fold-out sheets and painting tips.
---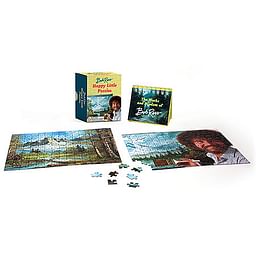 Bob Ross' happy paintings, memorable hairstyle and quirky catchphrases make us grin from ear to ear. This set includes two distinct 300-piece mini puzzles (one of a landscape painting and one of Bob Ross) and a 2.5" x 3" easel flipbook featuring Bob's works of art and words of wisdom. When completed, each puzzle measures 6" x 7.5".
---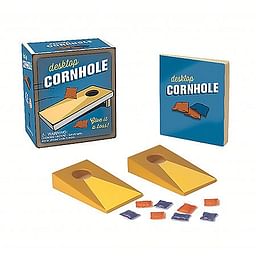 This desktop cornhole kit includes eight mini bean bags, two raised platforms and a 32 page book on how to play cornhole.
---
Light up life and thoughts with the itty bitty marquee! Inspired by classic cinema and theater marquees, this customizable kit includes letters, symbols and numbers that can slide into place onto a mini marquee sign. The marquee is lined with tiny lights that twinkle and shine! It's the perfect way for displaying and drawing attention to any personalized message in a home or office.
---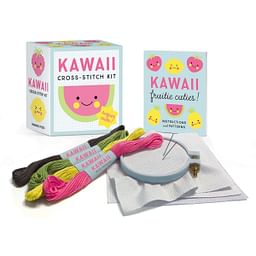 This Kawaii Cross Stitch Kit includes four Kawaii-style cross-stitch patterns (mellow watermelon, blushing berry, pretty pineapple and sour lemon), three pieces of 4" x 4" cotton Aida cloth, one 3" embroidery hoop, two tapestry needles, four skeins of embroidery thread and a 32 page instructions book.
---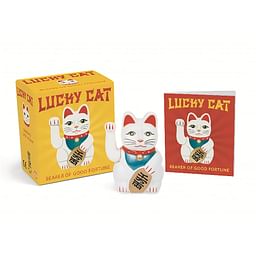 This Lucky Cat Kit includes one mini lucky cat figure with a motorized arm that beckons good fortune. Also included is a 32 page illustrated book on the history and symbolism of Lucky Cat.
---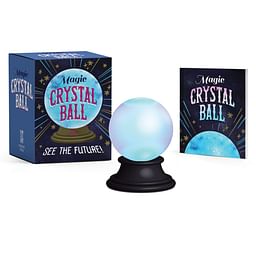 Unlock the mystical power of a fortune teller with a magic crystal ball. Wave a hand over the glass crystal ball to reveal one of 15 "answers" and follow the path it says to fulfill dreams and find happiness. The kit includes a mini glass crystal ball with motion-activated light (glowing aura) and sound (music and mystical answers), a black base, and a 48 page mini book with a brief history on the crystal ball and tips on how to use it.
---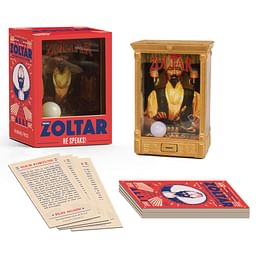 This Mini Zoltar Kit includes everyone's favorite fortune-telling machine, Zoltar, with two flickering lights and a light-up crystal ball. With the touch of a button on the outside of the booth, Zoltar speaks a different fortune every time! The kit also includes 16 fortune cards.
---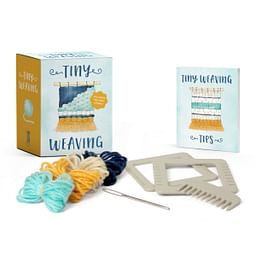 This Tiny Weaving Kit includes two miniature looms, one miniature comb, one needle, assorted thread and yarn and 32 page miniature book with weaving instructions.
---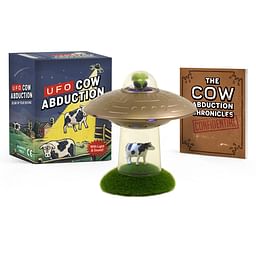 This out-of-this-world kit is loaded with special effects! It includes one 3" diameter spaceship equipped with a hinged cockpit dome from which a curious alien peers, as well as multiple fun light and sound effects. Open the cockpit dome and press the alien's head to play the sound of a spaceship engine, followed by eerie pre-abduction music. Six blue lights around the spaceship flash in rotation and two bright LED lights beneath the ship glow, casting a beam of light in search of a specimen to abduct. When the spaceship is hovered in close proximity to the cow, a magnetically powered 'abduction' occurs which simultaneously prompts new light and sound effects. Lights beneath the ship flash and music changes to a pulsating sound with intermittent cow mooing. When the cow is abducted and the alien head is pressed again, a sound of the spaceship flying away plays, concluding the invasion and shutting off the spaceship. Kit includes spaceship, miniature cow, faux grass mound, transparent display stand and a 48 page book, The Cow Abduction Chronicles, featuring full-color illustrations.
---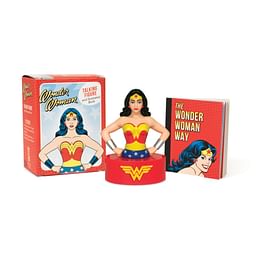 This Wonder Woman Kit includes a 3½" Wonder Woman bust with audio of 10 different empowering phrases and a 48 page book titled The Wonder Woman Way with full-color illustrations throughout.
---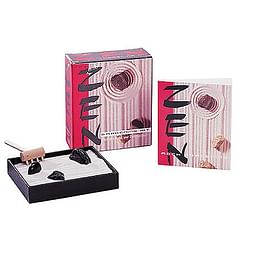 A Zen Gardening Kit in a miniature carry-along size provides a touch of tranquility on the go. Packaged with a 32 page book on an introduction to the aesthetic enlightenment of Zen gardening. Kit includes a tray, fine sand, decorative rocks and miniature wooden rake.
---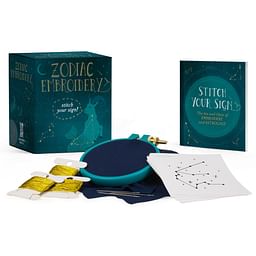 Blend the wonders of astrology with the simple joy of embroidery through zodiac embroidery, an adorable kit that provides everything needed to stitch a zodiac sign! Kit includes one 3" molded plastic embroidery hoop, 2 pieces of navy blue cloth, two skeins of metallic gold embroidery floss, two embroidery needles, 12 pattern sheets and a 32 page miniature book.
---