Modeling
Non-toxic, fun and easy to work with- its like modeling with marshmallows! This non-greasy, very light modeling material dries in 24 hours, and then can be painted and decorated. No firing or baking is needed, making it an ideal material for children.
---
Model Magic is a fun, unique, air-dry modeling material that allows kids to create keepable arts and crafts. It's soft and pliable for easy use. The dried pieces of Model Magic can be decorated with markers or acrylic paints. These sets contain six packs of Model Magic and an idea booklet- everything kids need for creating school projects, art and crafts, or for imaginative fun. Each set includes six individual 1/2 oz. packs. AP certified non-toxic.
---
This soft, easy-to-use modeling material lets you and your kids create colorful keepsakes. Model Magic air-dries, usually within 24 hours. Once dry it can be colored with paint or markers. It will not crumble or cling to skin or clothing, cleanup is easy and it's non-toxic. The Craft Pack includes two 2-1/2 oz. packs of Model Magic (blue and red), four 1/2 oz. packs of Model Magic (black, green, white and yellow) and a step-by-step instruction booklet.
---
This 4-pack of non-hardening modeling clay builds fun into learning forms and shaping children's imaginations. The clay stays pliable for hours of sculpting fun. It includes four, 4 oz. individually wrapped colors: red, blue, yellow and green. The clay is non-toxic; safe for all ages to handle.
---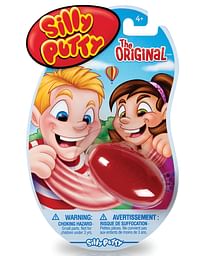 Fun to use Silly Putty can be molded into shapes to give the young artist a beginning in modeling. AP certified non-toxic.
---
These sets of extruders, cutters and tools offer a creative and versatile assortment of creative shapes and designs. The wooden clay rolling pin set comes with four rolling pins each with a different pattern and coated to help keep clay from sticking. The plastic clay and dough tool sets are durable and brightly colored. Set A has eight plastic cutters including a square, rectangle, triangle, diamond, circle, heart, strawberry and snowman. Set B has eight plastic cutters in the shapes of a cow, person, car, house, turkey, elephant, alligator and train. The dough cutters set has the shapes of a truck, dolphin, tree, seal, butterfly, airplane, bell and star. The plastic dough tools set of seven has a variety of cutting and shaping tools. The extruder set has four tools to manipulate dough into various shapes and lengths.
---
This wax-based clay designed for young children is soft, clean, safe and easy to use. The sampler variety pack offers 20 bright, appealing colors for nearly a pound of clay in total. EZ Shape modeling clay has a long shelf life and never dries out! Use it over and over again to make all sorts of shapes, 3-D figures, creatures and projects. It's perfect for kids of all ages, and according to educational experts, modeling clay opens a world of creativity for children as it helps them develop small motor skills and improves hand-eye coordination.
---
EZ Shape is a pigmented, wax-based modeling medium that has a smooth consistency and a bright range of colors. It remains permanently pliable and will never harden, so it can be reused again and again. It is self adhering and AP certified non-toxic. For kids 4 and up.
---
Clay support sticks that bend or break as needed. Attach clay parts together or use alone as arms, legs or antenna. Assorted colors, twenty-four per vinyl storage pouch.
---
Cut and shape clay neatly or create special effects with these five durable plastic, double ended, clay tools.
---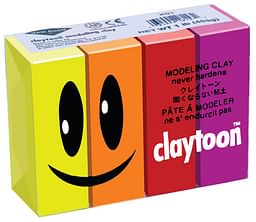 These 1 lb. clay sets each contains four different 4 oz. colors of non-hardening, non-toxic modeling clay and an information booklet with instructions, helpful hints and project ideas. Each color is individually wrapped for freshness.
---