Mica Flake Acrylics
Golden has temporarily suspended production of some larger sizes of their paints and mediums due to supply chain disruptions and increased safety measures during the pandemic. Most mediums in large sizes will be available in December 2021, heavy body colors will be available in January 2022, and large sizes of fluid acrylics will follow after that.
More of a medium than a paint, these colors create a shimmering faceted finish from mica particles suspended in a gloss acrylic medium.
Available in pearl, gold (small and large), and black.
Jump to: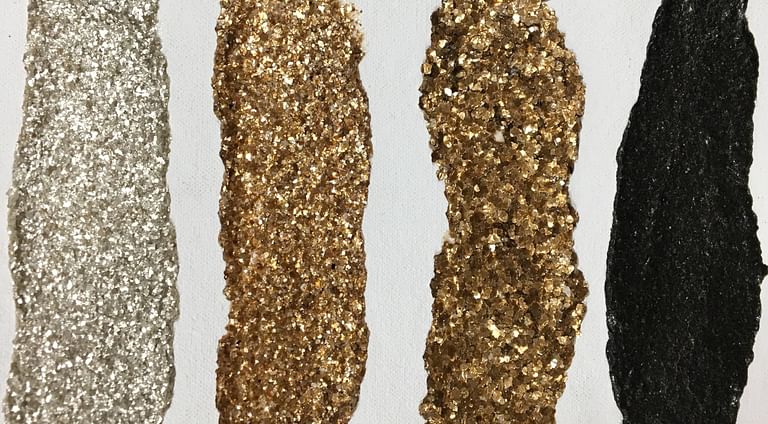 4 oz. Jars
Description
Sale
In Stock

Add to Cart

GD4075-4
Black Mica Flake (Small) GD4075-4
$25.39
$15.23 $25.39

40% off

In stock
GD4076-4
Gold Mica Flake (Small) GD4076-4
$25.39
$15.23 $25.39

40% off

In stock
GD4077-4
Pearl Mica Flake (Small) GD4077-4
$25.39
$15.23 $25.39

40% off

In stock
GD4078-4
Gold Mica Flake (Large) GD4078-4
$25.39
$15.23 $25.39

40% off

In stock
8 oz. Jars
Description
Sale
In Stock

Add to Cart

GD4075-5
Black Mica Flakes (Small) GD4075-5
$42.79
$29.95 $42.79

30% off

Unavailable

GD4076-5
Gold Mica Flakes (Small) GD4076-5
$42.79
$29.95 $42.79

30% off

Unavailable

GD4077-5
Pearl Mika Flakes (Small) GD4077-5
$42.79
$29.95 $42.79

30% off

Unavailable

GD4078-5
Gold Mica Flakes (Large) GD4078-5
$42.79
$29.95 $42.79

30% off

Unavailable