Our downtown store is temporarily closed to the public.
We offer
curbside pickup
, local delivery, and nationwide shipping.
Finishes & Coatings
ArtResin is an extremely clear, safe, 1:1 epoxy resin coating formulated for art and creative applications. It has no VOCs, no fumes, and no respirator is needed. The UV + HALS light stabilization means superior clarity and longevity. 8 oz. is enough to cover approximately two square feet.
---
ResinTint premium liquid pigment colorants are crafted for compatibility with ArtResin for rich saturation and glorious wonderful hues.
---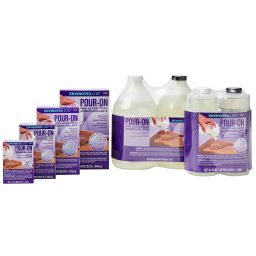 EnviroTex Lite is a water clear reactive polymer compound. It cures to a thick, glossy coating in about 8 hours at 70°F, and reaches full strength and toughness in about 72 hours. This durable, resilient material requires no polishing to produce a high gloss. One coat is all that is usually required for a deep attractive finish, however, two or more coats maybe applied one over the other by simply wiping the surface with a clean cloth and alcohol prior to re-coating.
---
The Gedeo Bio-Based Glazing Resin is transparent with a glass-like finish. As it dries the resin creates rounded edges, allowing artists to apply the resin to any flat and level surface, without it spilling over the edges.
---
These kits of two-part transparent resin are used for molding and creating a clear, hard finish on paper, cards, photos, cardboard, canvas, wood inclusions and more. After 24 hours the resin forms a hard, non-yellowing and transparent coating. This product may also be used for magnifying effects on canvas and to add dimension to flat surfaces. When applied to flat surfaces the resin levels out to form rounded edges that are controlled by the size and shape of the surface. Ideal for securing found objects and small items into a flat vessel and solidifying them into the clear resin coating.
---