Our downtown store is temporarily closed to the public.
We are offering
curbside pickup
, local bike delivery, and nationwide shipping.
Acryla Gouache
Made with a pure water-soluble acryl resin, Acryla Gouache is brilliant, lightfast and permanent, and moves, reacts, blends and feels like traditional gouache. However, unlike a traditional gouache which is made with a gum Arabic binder, it does not have a fragile paint film, is compatible with any water-soluble media and waterproof when dry. It also does not shift in color tone from liquid to dry color. Ideal for artists, designers, illustrators, students, hobbyists and bird carvers.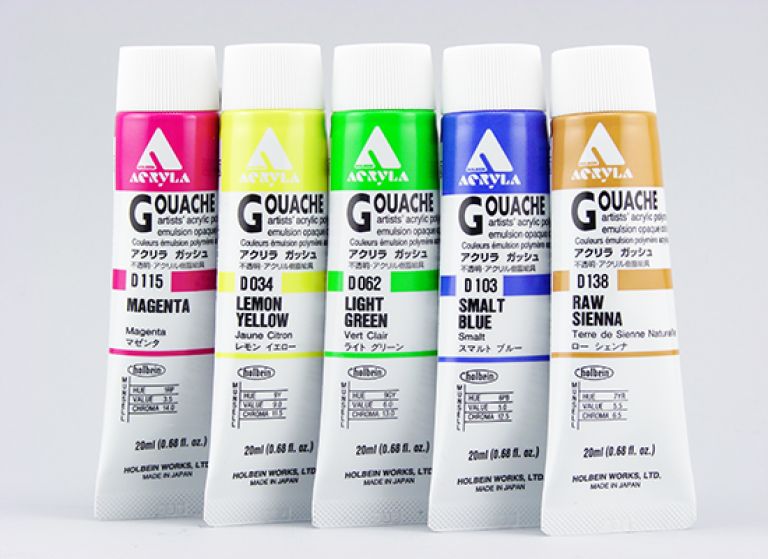 20ml Tubes
| Item No. | Description | List | Sale | In Stock | |
| --- | --- | --- | --- | --- | --- |
| HBD001 | Crimson (Primary Red) | $8.95 | $7.16 | In stock | |
| HBD002 | Carmine | $8.95 | $7.16 | In stock | |
| HBD003 | Scarlet | $8.95 | $7.16 | In stock | |
| HBD004 | Opera | $8.95 | $7.16 | In stock | |
| HBD005 | Pink | $8.95 | $7.16 | In stock | |
| HBD006 | Rose | $8.95 | $7.16 | In stock | |
| HBD007 | Wine Red | $8.95 | $7.16 | In stock | |
| HBD008 | Cosmos Pink | $8.95 | $7.16 | In stock | |
| HBD009 | Pure Red | $8.95 | $7.16 | In stock | |
| HBD010 | Coral Red | $8.95 | $7.16 | In stock | |
| HBD011 | Shell Pink | $8.95 | $7.16 | In stock | |
| HBD012 | Vermilion | $8.95 | $7.16 | In stock | |
| HBD013 | Pale Pink | $8.95 | $7.16 | In stock | |
| HBD014 | Pale Peach | $8.95 | $7.16 | In stock | |
| HBD031 | Yellow | $8.95 | $7.16 | In stock | |
| HBD032 | Light Yellow | $8.95 | $7.16 | In stock | |
| HBD033 | Deep Yellow | $8.95 | $7.16 | In stock | |
| HBD034 | Lemon Yellow | $8.95 | $7.16 | In stock | |
| HBD035 | Orange | $8.95 | $7.16 | In stock | |
| HBD036 | Orange Yellow | $8.95 | $7.16 | In stock | |
| HBD037 | Cream Yellow | $8.95 | $7.16 | In stock | |
| HBD038 | Jaune Brilliant | $8.95 | $7.16 | In stock | |
| HBD039 | Yellow Ochre | $8.95 | $7.16 | In stock | |
| HBD040 | Naples Yellow | $8.95 | $7.16 | In stock | |
| HBD041 | Flesh | $8.95 | $7.16 | In stock | |
| HBD042 | Ivory White | $8.95 | $7.16 | In stock | |
| HBD043 | Beige | $8.95 | $7.16 | In stock | |
| HBD044 | Mustard | $8.95 | $7.16 | In stock | |
| HBD061 | Green | $8.95 | $7.16 | In stock | |
| HBD062 | Light Green | $8.95 | $7.16 | In stock | |
| HBD063 | Deep Green | $8.95 | $7.16 | In stock | |
| HBD064 | Viridian | $8.95 | $7.16 | In stock | |
| HBD065 | Olive | $8.95 | $7.16 | In stock | |
| HBD066 | Sap Green | $8.95 | $7.16 | In stock | |
| HBD067 | Emerald Green | $8.95 | $7.16 | In stock | |
| HBD068 | Cobalt Green | $8.95 | $7.16 | In stock | |
| HBD069 | Ice Green | $8.95 | $7.16 | In stock | |
| HBD070 | Leaf Green | $8.95 | $7.16 | In stock | |
| HBD071 | Grass Green | $8.95 | $7.16 | In stock | |
| HBD072 | Blue Green | $8.95 | $7.16 | In stock | |
| HBD073 | Mint Green | $8.95 | $7.16 | In stock | |
| HBD074 | Misty Green | $8.95 | $7.16 | In stock | |
| HBD075 | Pale Lime | $8.95 | $7.16 | In stock | |
| HBD076 | Pale Mint | $8.95 | $7.16 | In stock | |
| HBD091 | Ultramarine Blue | $8.95 | $7.16 | In stock | |
| HBD092 | Ultramarine Blue Deep | $8.95 | $7.16 | In stock | |
| HBD093 | Cobalt Blue | $8.95 | $7.16 | In stock | |
| HBD094 | Cerulean Blue | $8.95 | $7.16 | In stock | |
| HBD095 | Turquoise Blue | $8.95 | $7.16 | In stock | |
| HBD096 | Peacock Blue | $8.95 | $7.16 | In stock | |
| HBD097 | Sky Blue | $8.95 | $7.16 | In stock | |
| HBD098 | Navy Blue | $8.95 | $7.16 | In stock | |
| HBD099 | Aqua Blue | $8.95 | $7.16 | In stock | |
| HBD100 | Light Blue | $8.95 | $7.16 | In stock | |
| HBD101 | Misty Blue | $8.95 | $7.16 | In stock | |
| HBD102 | Horizon Blue | $8.95 | $7.16 | In stock | |
| HBD103 | Smalt Blue | $8.95 | $7.16 | In stock | |
| HBD104 | Pale Aqua | $8.95 | $7.16 | In stock | |
| HBD105 | Prussian Blue | $8.95 | $7.16 | In stock | |
| HBD111 | Violet | $8.95 | $7.16 | In stock | |
| HBD112 | Deep Violet | $8.95 | $7.16 | In stock | |
| HBD113 | Red Violet | $8.95 | $7.16 | In stock | |
| HBD114 | Blue Violet | $8.95 | $7.16 | In stock | |
| HBD115 | Magenta | $8.95 | $7.16 | In stock | |
| HBD116 | Light Magenta | $8.95 | $7.16 | In stock | |
| HBD117 | Deep Magenta | $8.95 | $7.16 | In stock | |
| HBD118 | Lilac | $8.95 | $7.16 | In stock | |
| HBD119 | Rose Violet | $8.95 | $7.16 | In stock | |
| HBD120 | Pale Lavender | $8.95 | $7.16 | In stock | |
| HBD121 | Pale Lilac | $8.95 | $7.16 | In stock | |
| HBD131 | Burnt Sienna | $8.95 | $7.16 | In stock | |
| HBD132 | Raw Umber | $8.95 | $7.16 | In stock | |
| HBD133 | Burnt Umber | $8.95 | $7.16 | In stock | |
| HBD134 | Light Red Bright | $8.95 | $7.16 | In stock | |
| HBD135 | Sepia | $8.95 | $7.16 | In stock | |
| HBD136 | Jet Black | $8.95 | $7.16 | In stock | |
| HBD137 | Lamp Black | $8.95 | $7.16 | In stock | |
| HBD138 | Raw Sienna | $8.95 | $7.16 | In stock | |
| HBD151 | Titanium White | $8.95 | $7.16 | In stock | |
| HBD152 | Chinese White | $8.95 | $7.16 | In stock | |
| HBD155 | Ash Rose | $8.95 | $7.16 | In stock | |
| HBD156 | Ash Yellow | $8.95 | $7.16 | In stock | |
| HBD157 | Ash Green | $8.95 | $7.16 | In stock | |
| HBD158 | Ash Blue | $8.95 | $7.16 | In stock | |
| HBD161 | Neutral Gray #1 | $8.95 | $7.16 | In stock | |
| HBD162 | Neutral Gray #2 | $8.95 | $7.16 | In stock | |
| HBD163 | Neutral Gray #3 | $8.95 | $7.16 | In stock | |
| HBD164 | Neutral Gray #4 | $8.95 | $7.16 | In stock | |
| HBD171 | Gold | $14.60 | $11.68 | In stock | |
| HBD172 | Silver | $14.60 | $11.68 | In stock | |
| HBD173 | Bronze | $14.60 | $11.68 | In stock | |
| HBD181 | Pale Gold | $14.60 | $11.68 | In stock | |
| HBD182 | Metallic Red | $14.60 | $11.68 | In stock | |
| HBD183 | Metallic Yellow | $14.60 | $11.68 | In stock | |
| HBD184 | Metallic Green | $14.60 | $11.68 | In stock | |
| HBD185 | Metallic Blue | $14.60 | $11.68 | In stock | |
| HBD186 | Metallic Violet | $14.60 | $11.68 | In stock | |
| HBD187 | Metallic White | $14.60 | $11.68 | In stock | |
| HBD190 | Primary Magenta | $8.95 | $7.16 | In stock | |
| HBD191 | Primary Yellow | $8.95 | $7.16 | In stock | |
| HBD192 | Primary Cyan | $8.95 | $7.16 | In stock | |
| HBD193 | Primary Black | $8.95 | $7.16 | In stock | |
| HBD194 | Primary White | $8.95 | $7.16 | In stock | |
| HBD195 | Luminous Red | $14.60 | $11.68 | In stock | |
| HBD196 | Luminous Orange | $14.60 | $11.68 | In stock | |
| HBD197 | Luminous Lemon | $14.60 | $11.68 | In stock | |
| HBD198 | Luminous Green | $14.60 | $11.68 | In stock | |
40ml Tubes
| Item No. | Description | List | Sale | In Stock | |
| --- | --- | --- | --- | --- | --- |
| HBD836 | Jet Black | $15.95 | $12.76 | In stock | |
| HBD837 | Lamp Black | $15.95 | $12.76 | In stock | |
| HBD851 | Titanium White | $15.95 | $12.76 | In stock | |
| HBD852 | Chinese White | $15.95 | $12.76 | In stock | |